How to do RAW recovery from RAW drive?
EaseUS Data Recovery Wizard Download Instruction:
1. Click the download to get Data Recovery Wizard
2. Save then install it on a drive other than the one on which your files were lost
3. Run Data Recovery Wizard, search your drive and preview the files found in the results screen
What is RAW?
The RAW drive is a hard drive partition which has not been formatted with the file system neither FAT12/FAT16/FAT32 nor NTFS/NTFS5. The RAW drive can be caused by a number of reasons such as virus infection, format failure, accidentally shut down operating system, power outages, etc. In these processes the file system may becomes corrupted and RAW that cannot be recognized by Windows operating system. When you access the RAW drive, you will get an error message "The disk in drive is not formatted. Do you want to format it now?". In this situation, the file system is shown as "RAW" when we check the disk property. If we click "No", the drive cannot be accessed. On contrary, if we click "Yes", we will lose all of the files stored on this drive. So we cannot store data on it any more or even access it.
Why do we need RAW Recovery?
RAW recovery is a data recovery method to recover files from RAW drive or corrupt partition where file system is severely corrupted or destroyed.
Generally, when the following possible (but not all) symptoms occur, we cannot access our data:
NTFS/FAT File system is displayed as "RAW".
Invalid media type reading drive.
Abort, Retry, Fail?
Windows may ask if you want to format the drive, such as warning "disk not formatted. Do you want to format now?"
File names contain "weird" characters.
"Sector not found" messages.
So we need RAW recovery to recover our needed files.
How to do RAW recovery?
EaseUS Data Recovery Wizard Free Edition is all-in-one data and RAW recovery solution. Its "Complete Recovery" module can recover files from RAW drive. It can also recover files lost due to deletion, accident format, partition error, partition loss, virus attack, software crash, power surge, etc.
Steps to do RAW recovery from RAW drive:
1. Download it, install and run EaseUS Data Recovery Wizard Free Edition and Select Complete Recovery module.
2. Select the file types you want to recover and then you can see the list of logical volumes found on your computer, then select the RAW drive or other inaccessible drive.
3. Click "Next" and start "Intelligent Searching".
4. "Intelligent Searching" is completed; EaseUS Data Recovery Wizard Free Edition will list the found partitions. Then select one or more partitions (you can select 4 partitions at best) and Click "Next".
5. Then, EaseUS Data Recovery Wizard Free Edition will build directories to find files. After you find the lost files, you can use 'File Preview' feature to check your files (.doc, .docx, .xls, .xlsx, .txt, .jpg, .bmp, etc. can be previewed).
More detailed steps, please see: How to recover files from RAW drive?
Tips: If you want to wipe the data on a partition completely to protect your privacy, please refer to How to delete and wipe partition?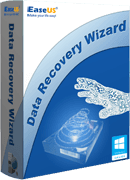 EaseUS Data Recovery Wizard
Download and try Data Recovery Wizard now. Check the Data Recovery Wizard search results screen and use the preview feature to display the file that you are trying to recover. If you find what you are looking for, then purchase a product activation key to save your recovered files to another drive.

Do not forget to back up your data in Case of Data Loss! Back up with the most advanced backup software - EaseUS Todo Backup Workstation.
System, file backup and disaster recovery.
Back up system state or save important data.
Automatic backup and much more.
Related articles: