EaseUS Partition Master Server Edition
ALL-IN-ONE Windows Server disk management toolkit
Time Limited Offer - 20% OFF
$127.20 $159.00

30-day Money Back Guarantee
How to Redistribute Free Disk Space?
Why redistribute free disk space?
Have you ever thought that you could redistribute free disk space on your Windows XP/Vista by yourself without repartitioning the whole hard drive and reinstalling the Operating System anymore? To redistribute the free space to the system partition easily? Or to allocate the unused free partition to other partition for larger memory?
Here is a real scenario: my Vista laptop has 160GB split into two partitions - System C:( 69GB, and ), and DATA D: (91GB). C: has the OS and all other necessary files to keep it running installed on it; D: has all my files on it (movies, pictures, etc. - everything else). The problem is that C: is now approaching its limit and runs out of space, and D: has enough free space available, is there a way for me to redistribute the free space of D: to C:, and how?
To easily and quickly redistribute free disk space among hard drive partitions, the 3rd party partition manager software, like EaseUS Partition Master, provides the opportunity of increasing free disk space on one partition by utilizing unused space from other partitions.
How EaseUS Partition Master works?
EaseUS Partition Master, an excellent program requiring a little technical knowledge, will make this process very easy under Windows Server 2000/2003/2008 and Windows 2000/XP/Vista/Windows 7 32/64 bit and Windows 8 system partition. It enables you to Resize and Move, Copy, Create, Delete and Format, Convert, Explore, Hide and Unhide, Merge Partitions, etc. server and non-server partitions and much more features.
Here comes an example of step-by-step instructions to redistribute free disk space by resizing Windows Server 2003 with EaseUS Partition Master Server Edition.
1. Select the hard disk and a partition you want to resize.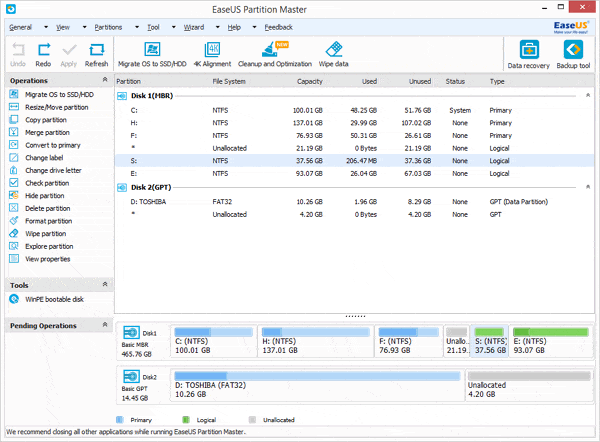 2. Click Partitions -> Resize/Move partition.
3. On a partition map, current size of the partitions under Windows Server 2003 is displayed on the top of the dialog box. It also depicts the used and unused space within the partition and the free space surrounding the partition (if any exists). The information is important for your resizing task under Windows server 2003. The minimum and maximum sizes that you can resize a partition under Windows 2003 also appear below the map.
4. Position the mouse pointer on the left or right partition handle.
5. Drag the handle to the partition size you want when the mouse pointer changes into a double-headed arrow.
6. Click Apply.
Just for precaution, although the chance of corruption or data loss during resizing process is minimal, it is best to always back up your data first, especially when you are shrinking the OS partition. With EaseUS Todo Backup, it is pretty easy to protect your critical data from losing.
EaseUS Partition Master Server Edition
ALL-IN-ONE Windows Server disk management toolkit
Time Limited Offer - 20% OFF
$127.20 $159.00

30-day Money Back Guarantee
More EaseUS Partition Master Editions for business users
Unlimited usage within a company
-
-
Free lifetime upgrades
-
-
Provide Technical Services to Clients
-
-
-
-
License
Machine License
Machine License
Unlimited License
Unlimited License
Technician License
Price

$127.20

$159.00

$207.20


$259.00

$319.20

$399.00

$399.20


$499.00

$559.20

$699.00
Related Articles:
Feedback on this article:
Thanks for visiting EaseUS, please let us know how we can improve this article or make it more useful to you. Should you need technical support please feel free to contact support@partition-tool.com.