EaseUS Partition Master Server Edition
ALL-IN-ONE Windows Server disk management toolkit
Time Limited Offer - 20% OFF
$127.20 $159.00

30-day Money Back Guarantee
Easiest and safest solution to repartition RAID 5 on Windows Server
RAID, especially RAID 5, is a technology preferred by Windows Server users for its great level of data reliability and input/output performance. Thus, to optimize the usage of Windows Server, IT administrators need to repartition RAID (RAID 5) regularly. This article will help you get better understanding of RAID, mainly RAID 5, and provide the safest solution to repartition RAID (RAID 5) on Windows Server.
What Is RAID?
RAID (Redundant Array of Independent Disks) is a technology that allows computer users to achieve high levels of storage reliability from low-cost and less reliable PC-class disk-drive components, via the technique of arranging the devices into arrays for redundancy.
"RAID" is now used as the term for computer data storage schemes that can divide and replicate data among multiple hard disk drives. When multiple physical disks are set up to use RAID technology, they are said to be in a RAID array. This array distributes data across multiple disks, but the array is recognized by the computer user and operating system as one single disk.
RAID is used either to improve reliability and availability of data, ensuring that important data is available more often than not, or merely to improve the access speed to files. There're several levels of RAID according to various combinations of approaches giving different trade-offs of protection against data loss, capacity, and speed, including RAID 0, RAID 1, RAID 2, RAID 3, RAID 4, RAID5 and RAID 10 (1+0), etc. Among them, RAID 0, RAID 1, and RAID 5 are the most commonly found, and cover most requirements.
What Is RAID 5?
A RAID 5 uses block-level striping with parity data distributed across all member disks. RAID 5 has achieved popularity due to its low cost of redundancy. RAID 5 has achieved popularity due to its low cost of redundancy. RAID 1 or RAID 10, which yields redundancy, gives only S / 2 storage capacities. While In RAID 5, the yield is S = (N-1) / N.
As an example, four 1TB drives can be made into a 2 TB redundant array under RAID 1 or RAID 10, but the same four drives can be used to build a 3 TB array under RAID 5. Although RAID 5 is commonly implemented in a disk controller, it can also be done at the Operating System level. A minimum of three disks is required for a complete RAID 5 configuration. In some implementations a degraded RAID 5 disk set can be made (three disk set of which only two are online), while supports a fully-functional (non-degraded) RAID 5 setup with two disks - which function as a slow RAID1, but can be expanded with further volumes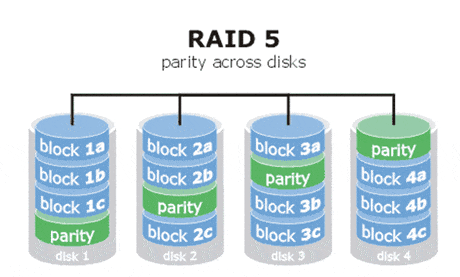 Easiest and safest Solution to repartition RAID 5
As mentioned above, due to its low cost of redundancy, RAID 5 is popular among Windows Server users. And repartitioning RAID 5 is a regular task for IT administrators to maximize the performance of their Windows Server computers. Since Windows Servers always store the most important data of a company, IT administrators should be extremely careful when choosing software to work on their server computer, including partition software to repartition their RAID 5. Fortunately, EaseUS Partition Master Server Edition is such an easy-to-use and safe partition tool which works perfectly with hardware RAID and can repartition RAID without data loss.
How to Repartition RAID 5 without Data Loss with This RAID 5 partitioning software
Compatible with all types of hardware RAID (e.g. RAID 0, RAID 1, and RAID 5) on both Windows Server 2000/2003/2008 and desktop 2000/XP/Vista 32 and 64 bit systems, EaseUS Partition Master Server Edition provides a range of powerful functions to repartition RAID, especially RAID 5, including: Resize and Move partitions, Copy partition, Copy disk,Create and Delete partitions, Format partitions, Convert partitions, set active partition, etc.
Among these functions, Partition Copy Wizard and Disk Copy Wizard offer you an easy way to back up your valued data before any operations on your RAID 5 partition. Resize utility allows you to resize your RAID 5 without any data loss.
Below is the user-friendly interface of EaseUS Partition Master Server Edition.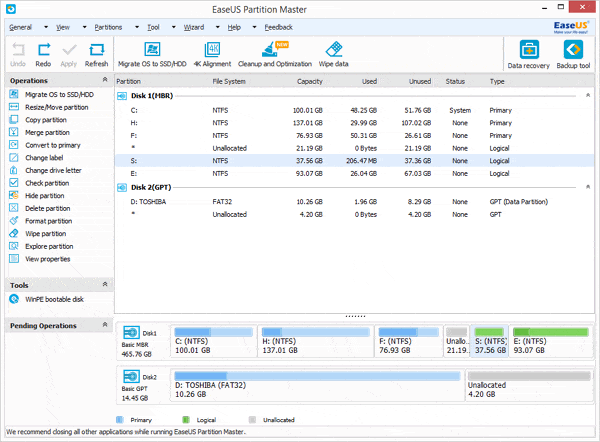 More about EaseUS Partition Master
To repartition RAID 5 on a single server computer without destroying data, EaseUS Partition Master Server Edition is the safest and easiest solution. Furthermore, EaseUS Partition Master Unlimited Edition is more cost-efficient for large enterprises allowing unlimited usage within one company.
If you need to repartition RAID 5 on your Windows Server computer, why not download this program to test its amazing function to repartition RAID 5 and, of course, all other types of hardware RAID?
Related Articles: