EaseUS Partition Master Server Edition
ALL-IN-ONE Windows Server disk management toolkit
$127.20 $159.00
How to repartition RAID without losing data?
Nowadays, RAID is popular among Windows Server users. And repartitioning RAID is a regular task for IT administrators or server users to maximize the performance of their Windows Server computers. How to repartition RAID in an easy and safe way? Please have a look at this article to gain this useful skill.
Why people use RAID?
RAID really does offer attractive advantages for thousands of PC users especially server users. Usually, they need to keep large quantities of data on hand (such as system administrators) and would benefit by using RAID technology. Why they choose RAID to use? Because it has following advantages:
1. Higher data security and fault tolerance
Through the use of redundancy, most RAID levels provide protection of the data stored on the array and security feature is a key benefit of RAID. This is safer to server users. Moreover, there is a lower chance of the storage subsystem as a whole failing due to hardware failures.
2. High performance
RAID has the ability to combine several physical disks into one larger "virtual" device with performance be improved. It enhances the running speed, increases storage capacity and reduces impact of a disk failure.
There are different levels of RAID, and the standard RAID levels can be nested for other benefits. The most common standard RAID levels are RAID 0, RAID 1, and RAID 5.
How to repartition RAID without losing data?
Considering the above advantages, RAID is more preferred by server users. How to manage this effective RAID becomes a problem which is needed to solve. To repartition the RAID, need reliable third-party RAID repartitioning tool which provides the easiest and safest way to partition RAID without destroying data, we recommend EaseUS Partition Master.
Below is the user-friendly interface of EaseUS Partition Master.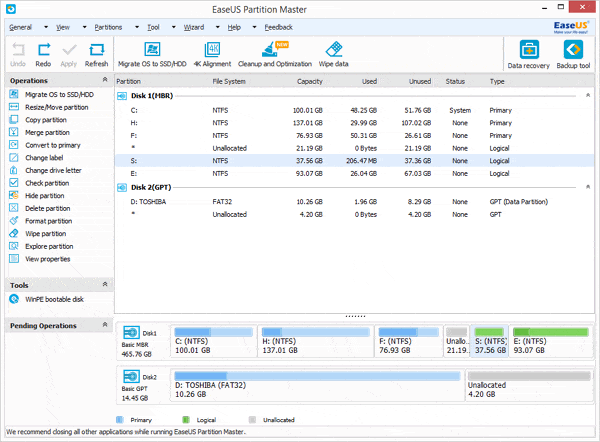 This utility is outstanding of this partition manager software, which is compatible with all types of hardware RAID (e.g. RAID 0, RAID 1, and RAID 5) on both Windows Server 2000/2003/2008 and desktop 2000/XP/Vista/Windows 7 32 and 64 bit and Windows 8 systems. Repartition RAID is one of the powerful function to EaseUS Partition Master, besides, it could resize and move partitions, copy partition, copy disk, copy dynamic volume, Format partitions, Convert partitions, etc.
More editions of EaseUS Partition Master
EaseUS Partition Master has 5 editions, including Free Edition, Professional Edition, Server Edition, Unlimited Edition and Technician Edition. If you are providing independent technical services to multiple clients, EaseUS Partition Master Technician Edition is right for you. It allows IT professional, system administrator, technician or consultant who offers independent managed services to customers.
Related articles: