How to Resize Boot Partition with ease?
What is Boot Partition?
The boot partition is the disk partition that contains the Windows operating system files and its support files. Generally, it is on the same partition as system partition: C drive. It is the most important part of hard disk with system and programs installed in it.
Working as the head of a human, boot partition will influence the performance of your computer to a large degree, especially the running speed. Thus how to optimize the boot partition for quick response?
Choosing a Partition Freeware to Resize Boot Partition
From above, we can get that boot partition is critical for our computer, so how to manage it is an important task for computer users. Maybe the first thing you come into mind is the built-in Disk Management if you are Vista users. But as we know, it is not an easy task for common users, not mention the speed of resizing boot partition or any advance functions. Therefore, a third party application is needed for resizing boot partition.
Among hundreds of thousands of partition software, to choose a reliable partition freeware is not an easy case. However, EaseUS Partition Master as a comprehensive partition freeware deserves your trust. EaseUS Partition Master Free Edition is a trustable partition freeware for resizing, copying, creating, deleting, formatting, merge partition, etc. This freeware works perfectly with hardware RAID and Windows 2000/XP/Vista/Windows 7 32/64 bit and Windows 8 Operating Systems. And the most shining point is that it can resize and move boot partition without any data loss. You do not need to worry about your data will be lost during the process of resizing boot partition. And if you are still afraid of data loss because of unexpected affairs, the partition & disk copy can be used to backup your data and ensure it is 100% the same as the originals.
How to Resize Boot Partition with this Partition Freeware?
Here a real case is available for you to know more about resizing boot partition with EaseUS Partition Master Free Edition.
A user has an 80 Gigabytes hard drive with three partitions. One day he found that the boot partition C: drive is out of place. Meanwhile, the partitions are fighting for the precious space with each other and running slowly. So the key point for him is to increase boot partition size. He used the Windows built-in Disk Manager but failed. Then he gave a try for EaseUS Partition Master Free Edition to resize his boot partition. With the help of this reliable partition freeware, he resized his boot partition successfully.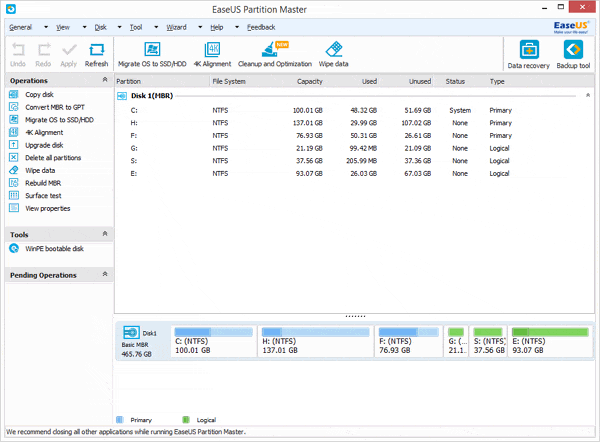 EaseUS Partition Master Free
As the picture above shows, EaseUS Partition Master Free is a user-friendly freeware owning functions like, Resize/Move partition, Copy partition, etc. With it, resize boot partition will be finished after a few clicks.
Tutorial to add space to C drive
1. Download this free partition manager and install it. Launch EaseUS Partition Master. As the picture showed below, there is no enough unallocated space to extend the system partition. So first, you have to decrease one of partitions to gain the unallocated space.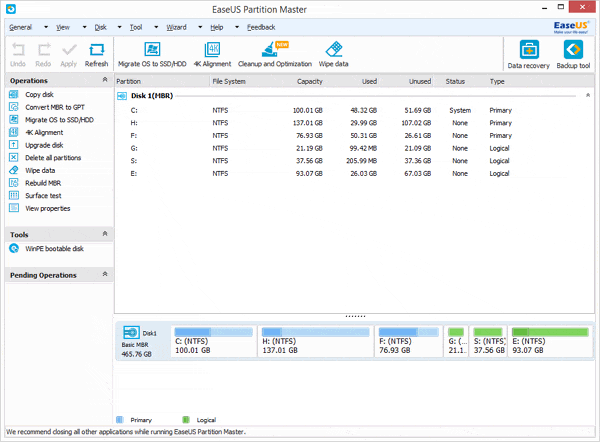 2. Select partition E:, and decrease it by clicking "Resize/Move partition" and then move it to let the unallocated space be behind the system partition.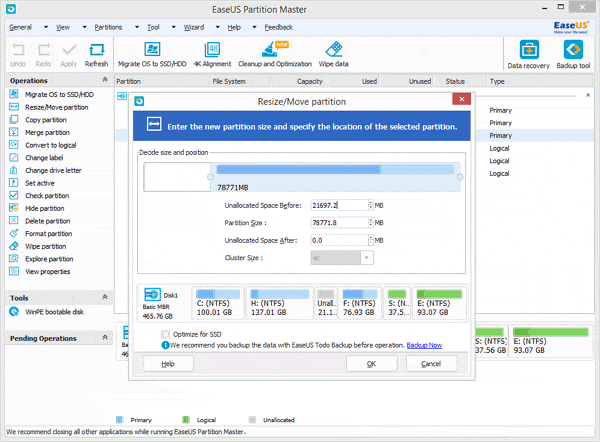 3. Then select the system partition (C: drive), right click it and select "Resize/Move partition" to extend the C: drive.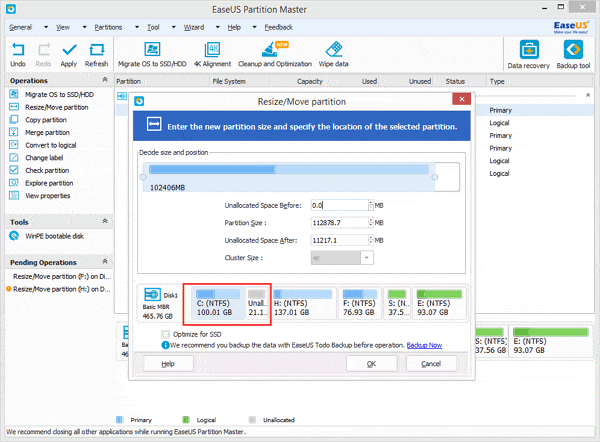 4. Click Apply.
For more detailed information, please visit resizing and moving partitions.
Related Articles
Feedback on this article:
Thanks for visiting EaseUS, please let us know how we can improve this article or make it more useful to you. Should you need technical support please feel free to contact support@partition-tool.com.