EaseUS Partition Master Server Edition
ALL-IN-ONE Windows Server disk management toolkit
Time Limited Offer - 20% OFF
$127.20 $159.00

30-day Money Back Guarantee
How to resize Windows 2003 Server partition?
Windows Server 2003 Operating Systems take the best of Windows 2000 Server technology and make it easier to deploy, manage, and use. In addition, Microsoft has improved and extended the Windows Server Operating Systems to incorporate the benefits of Microsoft .NET for connecting information, people, systems, and devices. Now, it is so popular with server users because of its security, reliability, availability, and scalability. But problem still exists, what can we do when a partition is out of space? The only method is delete files in it? No, we can solve this probem in a better way. Just read on, here is a professional Server 2003 partition manager software to make your life easy.
Partition manager software to resize partition on Windows 2003 Server
EaseUS Partition Master Server is designed for Windows Server users to resize and move partitions. It supports: Windows 2000 Server SP4, Windows 2000 Advanced Server SP4, Windows Server 2003 Standard Edition, Windows Server 2003 Enterprise Edition, Windows Server 2003 x64 Standard Edition, Windows Server 2003 x64 Enterprise Edition, Windows Server 2008 (32/64 bit), and non-server systems Windows XP/Vista/Windows 7 (32 and 64 bit) and Windows 8 versions. It makes the perfect choice for computer geeks on servers that were installed with non-server systems. It also creates, deletes, formats and moves a logical disk to reallocate space and easily works with the system requirements of a tricky application.
EaseUS Partition Master Server Edition performs many basic and advanced file system functions: resize and move partitions; merge two partitions; copy disk/partition; create new and delete old partitions; format partitions and stick up labels to them; mark partition as active; and hide and un-hide partitions. With it, we can reshape hard disk on a Server 2003/2008/2000 without having to wipe out the entire disk and reinstalling applications.
This is a utility owning excellent features:
Designed to be user friendly; users simply click on the disk (partition) to be managed, and then choose the required action on the partition's menu - e.g., resize.
Accuracy and safety also count. For example, before deleting data, the program will clarify whether the user wants to delete the partition or to erase all data. It will also not allow the user to create a FAT16 partition larger than 4GB; it can handle up to 32 hard disks.
Server users can obtain a powerful partition manager, ready to handle quickly, yet securely, individual drives and RAID arrays.
Compared with its earlier versions, it also runs on a bootable CD, regardless of the operating system - a useful feature in case of a crash.
Steps to resize Server 2003 partition with EaseUS Partition Master
That is, resizing partitions under Windows Server 2003 with EaseUS Partition Master Server Edition. From the following steps, you may find it is a simple task to resize Windows Server 2003 partitions with EaseUS Partition Master Server Edition.
1. Launch EaseUS Partition Master Server Edition on Windows Server 2003.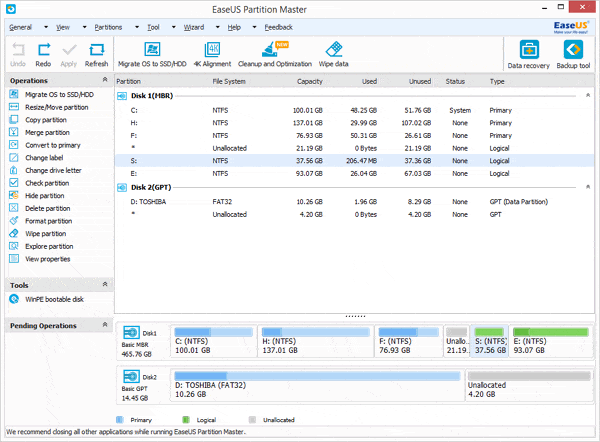 2. Select the partition you want to resize, right click it and select "Resize/Move partition", drag the partition handle rightwards or leftwards to resize partition on Windows Server 2003.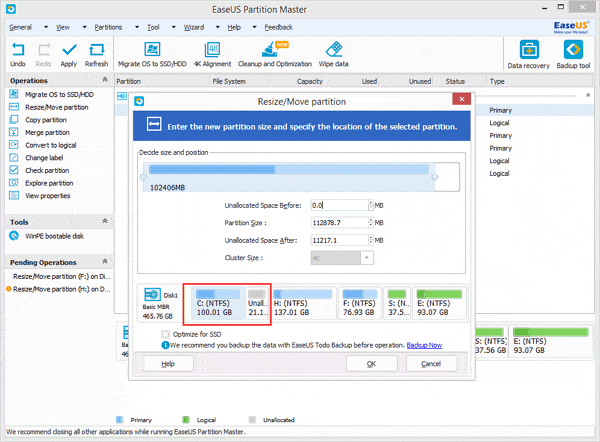 3. Apply all changes.
Only several clicks, resizing partition can be finished safely. Why not try it by yourself right now! By the way, backup your data with server backup software before resizing your server partition is a good habit.
EaseUS Partition Master Server Edition
ALL-IN-ONE Windows Server disk management toolkit
Time Limited Offer - 20% OFF
$127.20 $159.00

30-day Money Back Guarantee
More EaseUS Partition Master Editions for business users
Unlimited usage within a company
-
-
Free lifetime upgrades
-
-
Provide Technical Services to Clients
-
-
-
-
License
Machine License
Machine License
Unlimited License
Unlimited License
Technician License
Price

$127.20

$159.00

$207.20


$259.00

$319.20

$399.00

$399.20


$499.00

$559.20

$699.00
Related Articles:
Feedback on this article:
Thanks for visiting EaseUS, please let us know how we can improve this article or make it more useful to you. Should you need technical support please feel free to contact support@partition-tool.com.