How to resize partition under Windows 7 (32 bit and 64 bit)?
Windows 7 introduction
Windows 7 (formerly codenamed Blackcomb and Vienna) is the latest version of Microsoft Windows. Are you planning to install Windows 7 now or just migrate to Windows 7 for a dual-boot system? Have you prepared a free partition manager in your toolkit for better Windows 7 administration? Say, create a new partition to install Windows 7, or extend the full system partition for a smooth Windows 7 running of, etc. By the way, you may also make a Windows 7 dual boot with Windows XP or Vista.
Windows 7 built-in Partition Manager

There is no obvious improvement of Disk Management Tool in Windows 7 and the Disk Management Tool in Windows 7 is nearly the same with Windows Vista and Windows Server 2008 with so many limitations in partition management. (Please refer to the comparison table below)
So some advanced partition management in Windows 7 is still unavailable when you find your system partition is out of space which will be in red as below:

In this condition, people have to seek best partition manager software for Windows 7 32 bit and 64 bit and Windows 8. EaseUS Partition Master, a comprehensive free hard disk partition manager and system optimization software for Windows-based administration, works well with Windows 7 32 bit and 64 bit.
What EaseUS Partition Master can do (compare with Disk Management Tool under Windows 7)?
So that's the main differences between EaseUS Partition Master and Disk Management Tool. You may check more detailed features of EaseUS Partition Master.
As a matter of fact, the only disadvantage of Disk Management Tool in Windows 7 or other Windows systems is that it can not resize the partition. That's the main reason why the partition software for Windows 7 exists. The following part will give you a demonstration of how to resize partition under Windows 7.
How to resize Windows 7 partition with free partition manager?
Then how to deal with the Windows 7 partition advanced management? Here are two solutions for this with EaseUS free partition manager.
Note: 1. When running our product, please close other applications including the antivirus software and the firewall. Some special software such as Norton, Kaspersky, AVG, ZoneAlarm needs to be uninstalled temporarily.
2. If there is much data on your partition, the resizing will take a long time. You need to be patient to wait. Please keep 5~10% free space as our product needs some space for data exchanging during resizing.
3. We suggest you do this step by step, such as, decrease partition D, apply it (If you don't open any file/application on D, our product won't request a reboot). Then increase partition C and apply it.
4. If possible, please backup your important data to a safe place such as external drive before resizing.
Windows 7 Partition Advanced Management Solution 1
Offering a simple and convenient way to manage your partitions, EaseUS Partition Master runs well on Windows 7. Say, it enables you to extend the system partition, Create, Delete, Resize/Move, Copy, Merge, Split or Format partition.
Tips: Don't forget to backup your data with free backup software - EaseUS Todo Backup Free before resizing partitions.
1. Download this free partition manager and install it. Launch EaseUS Partition Master. As the picture showed below, there is no enough unallocated space to extend the system partition. So first, you have to decrease one of partitions to gain the unallocated space.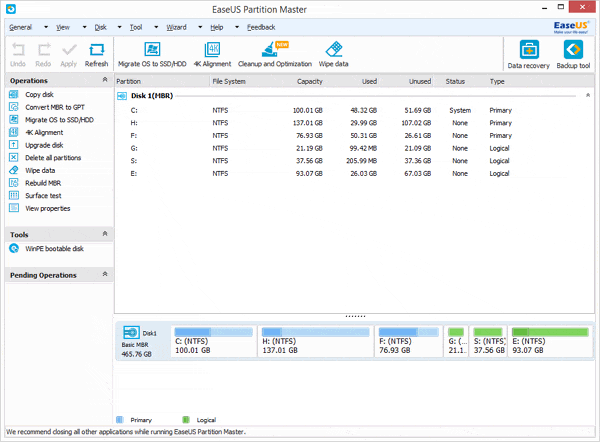 2. Select partition E:, and decrease it by clicking "Resize/Move partition" and then move it to let the unallocated space be behind the system partition.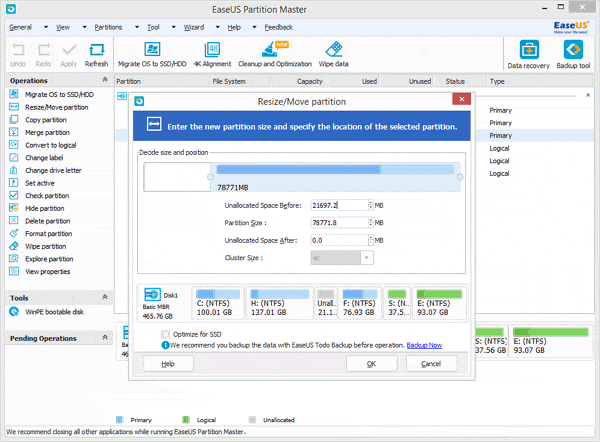 3. Then select the system partition (C: drive), right click it and select "Resize/Move partition" to extend the C: drive.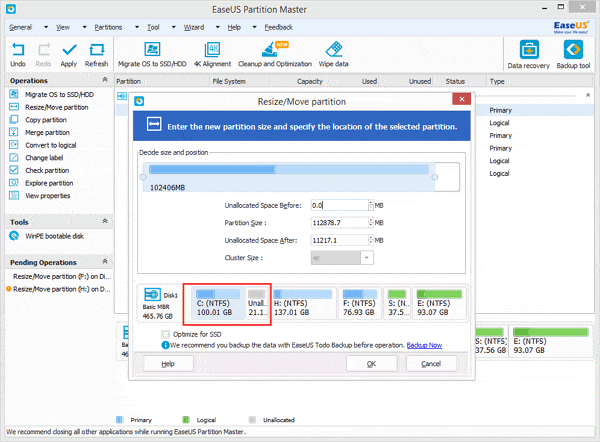 4. Click Apply.
For more detailed information, please visit resizing and moving partitions.
Windows 7 Partition Advanced Management Solution 2
The other safe way for managing Windows 7 Partition is to make a bootable CD of partition software. Some partition software like EaseUS Partition Master Professional Edition and its higher editions can create WinPE bootable disk for users to perform advanced partition management before Windows 7 starts.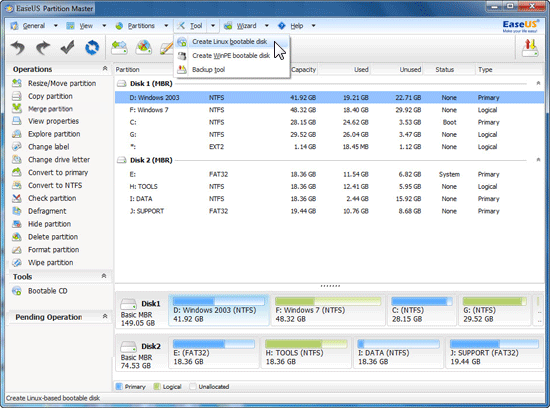 You may check the tutorial How to manage partitions before Windows 7 starts.
Besides, partition manager features, EaseUS Partition software also provides some other features like Partition Recovery Wizard to recover deleted or lost partitions, Copy disk & partition wizard to upgrade or backup disk.
Note: You can dual boot Windows 7 and Windows 8 with the help of EaseUS Partition Master Free.
There is a shining point of EaseUS Partition Master: Though the Professional and Server Edition are both single license, if your computer has virtual system, they can be installed in all virtual system as well. That's really cool. And the following articles with hyperlink show you how to resize partition under different Windows systems:
Computer of long use definitely would be stuffed with junk files, you have to prepare your PC a system clean utility, which can speed up your slow computer, clean up those junk files and repair Windows system to make a New computer for you. Try EaseUS CleanGenius.
Related Articles:
Feedback on this article:
Thanks for visiting EaseUS, please let us know how we can improve this article or make it more useful to you. Should you need technical support please feel free to contact support@partition-tool.com.