How to resize partition under Windows 8?
Windows 8 partition resize allows you to resize hard drive partitions under Windows 8 OS. This article will show you how to resize Windows 8 partition.
Can Partition Magic resize Windows 8 partition?
Partition Magic is a software utility for hard disk drive partitioning originally made by the Power Quest Corporation but owned by Symantec in 2003. The software runs on Microsoft Windows 98, Me, NT, 2000 and XP (Windows Server 2003, Windows Vista, Windows 7, Windows Server 2008 and Windows 8 are not supported by Norton Partition Magic), or from a bootable CD/DVD and has the capability of resizing, creating different drives (partitions) and other modifications to hard disk drives without losing any information on the hard disk drive.
Maybe you can still use Partition Magic under Windows 8, however, it is so unstable that you have great chance to meet problems or system crash when resizing Windows 8 partition.
Can Windows 8 built-in Disk Management resize Windows 8 partition?
Windows 8 built-in Disk Management has ability to shrink volume and extend volume. Just right click on "My Computer", choose "Manage", and you will get a popup window, choose "Disk Management" in left navigation bar. And then, your hard disk condition will show as follow.

Then you need to right click on the partition which you want to shrink, and choose "Shrink Volume", then type a number how large space you want to free up.
When there is some unallocated space next to the partition that you want to extend and right click the partition that you want to extend, choose "Extend Volume", and type the number of that unallocated space. Then the Windows 8 partition resize is done.
Although there is some improvement of Disk Management Tool in Windows 8, but it still has many limitations in partition management. (Please refer to the comparison table below). Because some advanced partition management in Windows 8 is still unavailable when you find your system partition is out of space which will be in red as below:

In this condition, people have to seek best partition manager software for Windows 8. EaseUS Partition Master, a comprehensive free hard disk partition manager and system optimization software for Windows-based administration, works well with Windows 8.
What EaseUS Partition Master can do (compare with Disk Management Tool under Windows 8)?
So that's the main differences between EaseUS Partition Master and Disk Management Tool. You may check more detailed features of EaseUS Partition Master.
How to resize Windows 8 partition with partition manager?
Then how to deal with the Windows 8 partition advanced management? Here is a solution for this with EaseUS partition manager.
Offering a simple and convenient way to manage your partitions, EaseUS Partition Master runs well on Windows 8. Say, it enables you to extend the system partition, Create, Delete, Resize/Move, Copy, Merge, Split or Format partition.
1. Launch EaseUS Partition Master. As the picture showed below, there is no enough unallocated space to extend the system partition. So first, you have to decrease one of partitions to gain the unallocated space.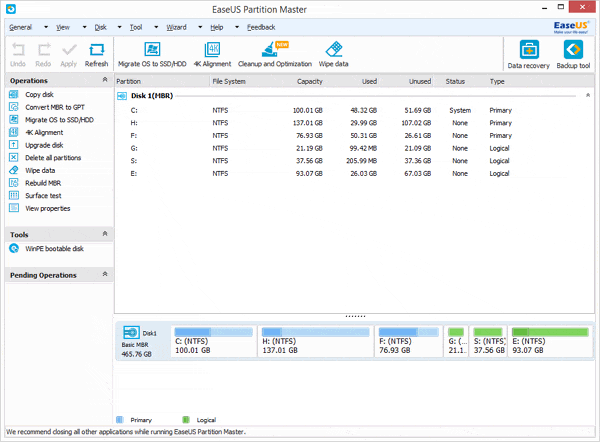 2. Select partition E:, and decrease it by clicking "Resize/Move partition" and then move it to let the unallocated space be behind the system partition.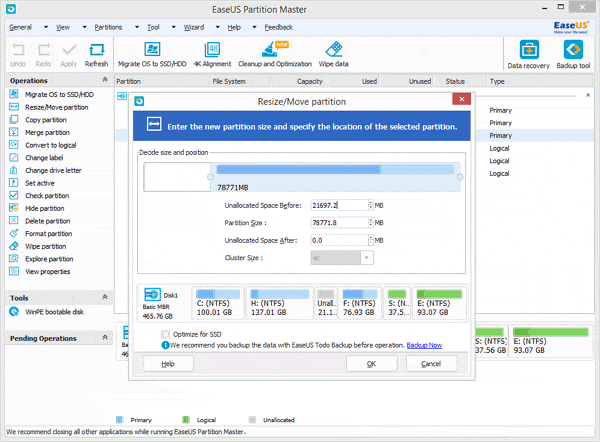 3. Then select the system partition (C: drive), right click it and select "Resize/Move partition" to extend the C: drive.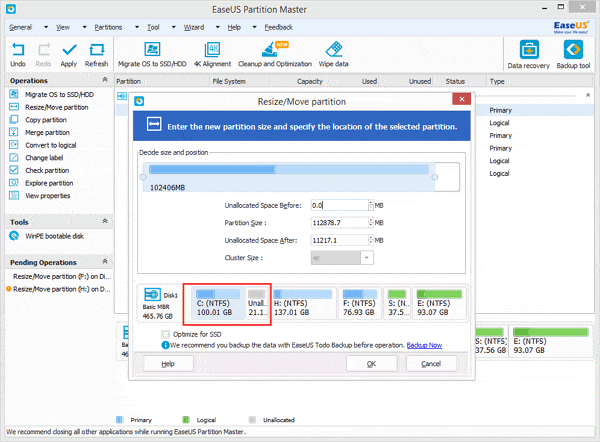 4. Click Apply.
For more detailed information, please visit resizing and moving partitions.
Besides partition manager features, EaseUS Partition software also provides some other features like Partition Recovery Wizard to recover deleted or lost partitions, Copy disk & partition wizard to upgrade or backup disk.
There is a shining point of EaseUS Partition Master: Though the Professional and Server Edition are both single license, if your computer has virtual system, they can be installed in all virtual system as well. That's really cool. And the following articles with hyperlink show you how to resize partition under different Windows systems:
Related Articles: