Resize Vista partition with free partition software - EaseUS Partition Master
Need to optimize the performance of the Vista computer?
Windows Vista took over Windows XP by bundling with a lot of laptop, notebook manufacturers. What shall we do if we need to maximize its performance by resizing Vista partition magically to optimize its hard disk usage and make it run faster when we find it is too slow to work?
One of the advanced choices for resizing Vista partition is EaseUS Partition Master Free Edition. Working as a magic partition software for Vista, this free Vista partition manager is with all features of commercial program for Vista partitioning. It includes both basic and advanced partition features to manage your Vista partitions, like extend system partition without losing data, create, copy partition, copy dynamic volume, copy disk, format partitions, split partition, merge partitions, etc.
There are some cases and guides for resizing Vista partition:
1. What happened to your computer for running so slowly that you cannot tolerate it anymore? You may think about cleaning up your disk. What should I do if it runs slowly again? The one stop solution is to resize your system Vista partition or simply enlarge your system partition. Maybe you will be worried about the system data on the partition. Will this Vista partition software damage my data or make my system fail to boot? This will never happen even you wish to. Besides, EaseUS Partition Master supports extending system partition without reboot to save your time.
2. We know that YouTube is becoming very popular nowadays. Many people love this place (youtube.com) to download anything they prefer to their own hard drive. With quantity accumulated, space for storing your favorite videos becomes an urgent problem that bothers you so much. Usually we keep similar stuff in one category. With the huge size of the videos, what can your small partition do? Enlarge it with Vista Disk Management? FAT partitions are not supported. Move partition is also not supported. Fortunately there is free Vista partition manager - EaseUS Partition Master Free Edition to resize Vista partition. You can save time and money to enlarge any partition you like to store your videos.
How to resize Vista partition with free Vista partition manager?
Be free to download the free Vista partition manager and run the program with administrator privilege. Use Resize/Move partition function to resize Vista partition as below:

Tips: It is important to backup data before resizing partition, because nothing is 100% secure.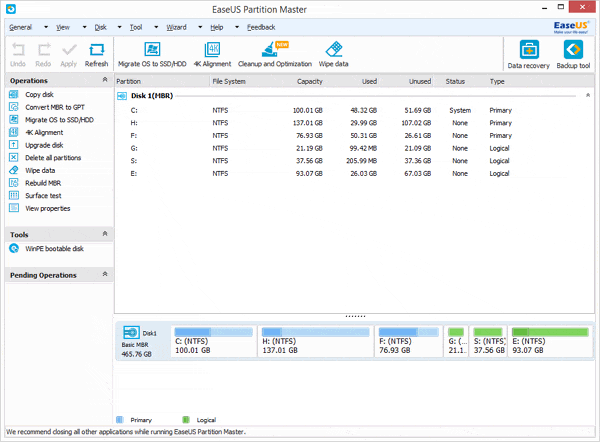 1. Launch EaseUS Partition Master.
2. Select "Resize/Move partition" to resize or move the partition you want to change.
3. Apply all changes.
Tips for resizing Vista partition.
Once again, be free to keep it in mind that it is the free partition software to resize Vista partition in the utility world. EaseUS Partition Master performs all types of basic and advanced partition functions to manage your computer and optimize the hard disk usage while the data is well protected. And, the free personal version is 100-percent Windows Vista compatible.
According to the authorizing of EaseUS Partition Master Free Edition, it is free for home 32/64 bit users only. For business desktops, laptops, Tablet PCs, and media center PCs and Windows Vista PC users, EaseUS Partition Master Professional Edition is the perfect choice. It works well under 32/64 bit Windows Vista. It also runs on a bootable CD regardless of the Operating System and is a useful feature in case of a system crash and failure.
Besides Partition Manager, EaseUS Partition Master provides Partition Recovery Wizard and Disk and Partition Copy Wizard features. It is a complete solution to solve your disk and partition problem.
Related Articles