EaseUS Partition Master Professional Edition
ALL-IN-ONE Windows partition manager software
$31.96 $39.95
Resize Windows 7 VHD to better optimize the virtual hard disk.
What is the advantage of VHD?
A Virtual Hard Disk (VHD) is a virtual hard disk file format, which means it can contain what is stored on a physical hard disk drive. It is typically used in various virtualization packages, and can be used to install a wide variety of operating systems (various versions of Microsoft Windows and Linux).
Virtual Hard Disk allows multiple operating systems to reside on a single host machine. This method enables developers to test software on different operating systems without the cost or harm of actual hardware. The ability to directly modify a virtual machine's hard disk from a host server supports many applications, including:
Moving files between a VHD and the host file system
Backup and recovery
Antivirus and security
Image management and patching
Disk conversion (physical to virtual and so on)
Life-cycle management and provisioning
Windows 7 support for native VHD boot
Native VHD Boot refers to the ability of a physical computer to mount and boot from an operating system contained within a VHD. Windows 7 supports this ability, both with and without a host operating system to be present. Currently, only Windows 7, Windows 8 and Windows 2008 R2 are compatible with this feature.
Why you need to resize Windows 7 VHD?
By common method, for example, creating VHD in Windows 7 disk management or Virtual PC, you'll get one partition of one virtual disk, but sometimes, you need several virtual partitions to use. Of course you can create several virtual disks to get more partitions, but it is inconvenient to transfer the VHD file or native VHD boot. This article will tell you how to resize Windows 7 VHD and get more partitions on one virtual hard disk.
How to resize Windows 7 VHD?
Install Windows 7 partition manager - EaseUS Partition Master in local computer.
Attach the virtual hard disk VHD file.
Right click "My Computer" > Manage > Storage > Disk Management, right click Disk Management and choose Attach VHD.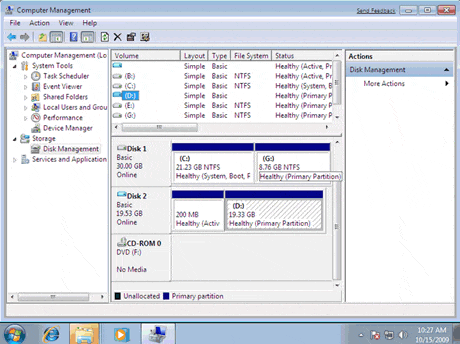 The following is a step-by-step instruction to extend a partition on VHD in Windows 7 and Windows 8.
Tips: It is important to backup data before resizing partition, because nothing is 100% secure.
1. Choose right edition of EaseUS Partition Master and install it. After that, launch EaseUS Partition Master.

2. Choose partition E: on the virtual disk and the right click it. Select "Resize/Move partition" and drag the partition handle leftwards to resize the partition. Then you will get a shrunk E: drive.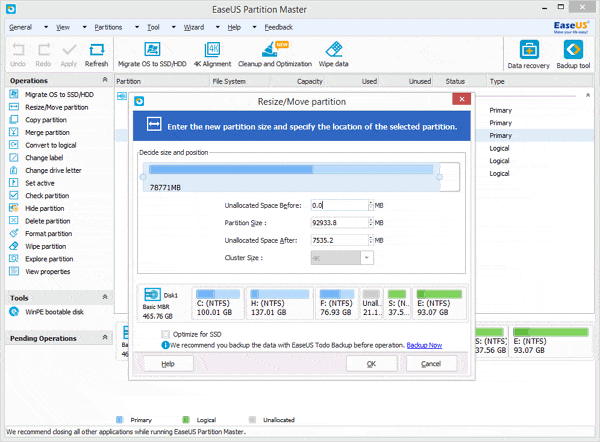 3. Then there will be unallocated space behind the E: drive, you can extend another partition on the VHD to make the unallocated space behind it.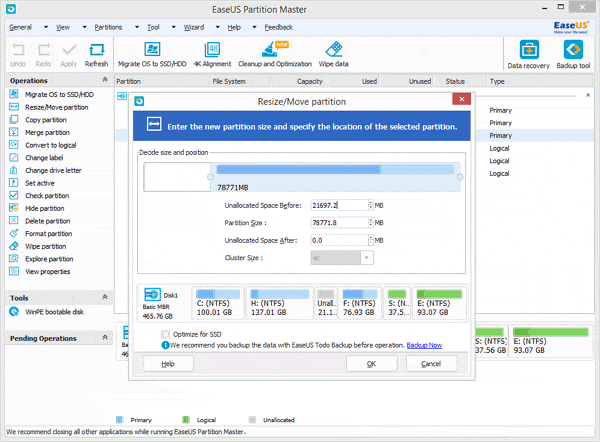 4. Select the partition that needs to be extended and drag the handle rightwards to increase its size. Then click Apply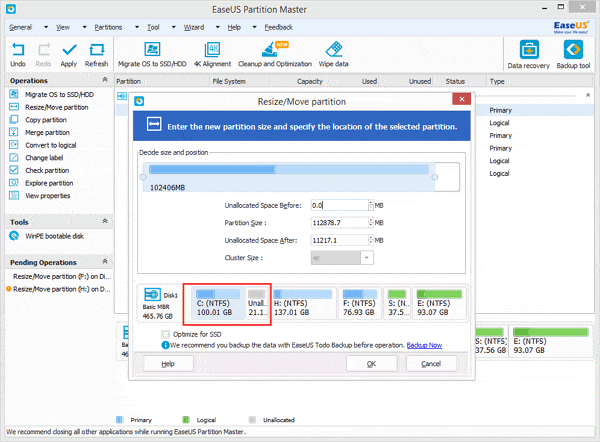 For more detailed information, please visit resizing and moving partitions.
After the changes, the original VHD file will contain several virtual partitions. You may detach and attach the VHD file to check again. You may also copy the VHD to another physical hard disk, so you are able to transfer the operating system and data from virtual hard disk to the physical disk.
Related Articles: