Free resize/move FAT32, NTFS partitions with EaseUS Partition Master Free Edition
Nowadays, computer is becoming more and more popular and we even can not work without it. We complain a lot for its low speed; we complain a lot when there is not enough space of partitions, etc. Commonly, FAT32 and NTFS are the main types of partitions. How can we resize FAT32 and NTFS partitions? EaseUS Partition Master Free Edition - free for home 32/64 bit users; resize any FAT32/NTFS partition in Windows without destroying data.
FAT32 - File Allocation Table 32, is a file system used in computer. It is created to overcome the volume size limit of FAT16. The maximum possible size for a file on a FAT32 volume is 4 GB minus 1 "null" byte (232-1 bytes).
NTFS - New Technology File System, the standard file system of Windows NT, Windows 2000, Windows XP, Windows Server 2003, Windows Server 2008 (the successor to Windows Server 2003, releaed on February 27, 2008; includes server code - a significantly scaled-back installation where no Windows Explorer shell is installed) and Windows Vista.
Other related editions:
EaseUS Partition Master Professional Edition
EaseUS Partition Master Server Edition
EaseUS Partition Master Unlimited Edition
EaseUS Partition Master Technician Edition
How to resize/move a FAT32/NTFS partition? Just follow these steps:
Let's suppose C: is the partition we want to extend, and E: is next to C:. Using EaseUS Partition Master can realize resizing and moving partition easily.
Friendly notice: Backup important data before resizing partition is a good habit, EaseUS provides free backup software for you.
1. Download and launch EaseUS Partition Master.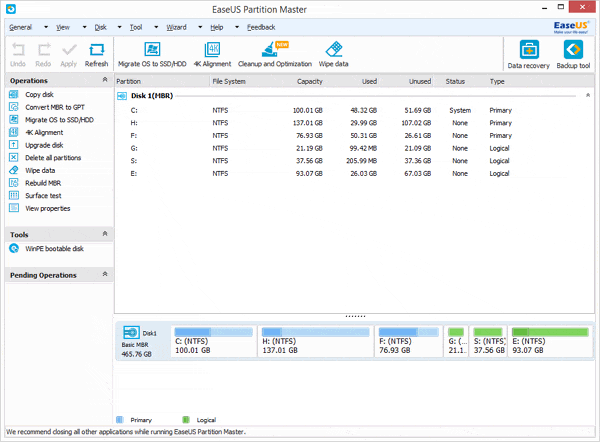 2. Use "Resize/Move partition" function to shrink and mover partition E:.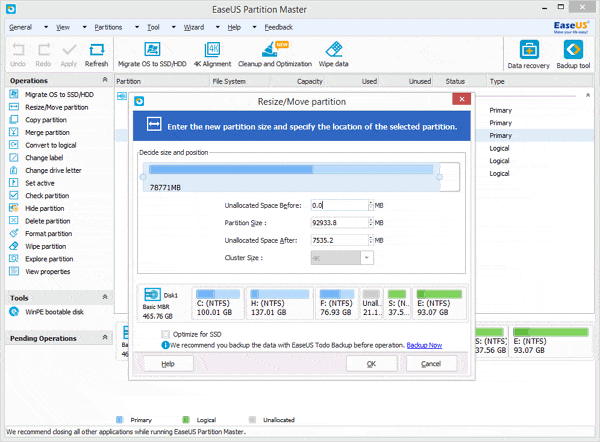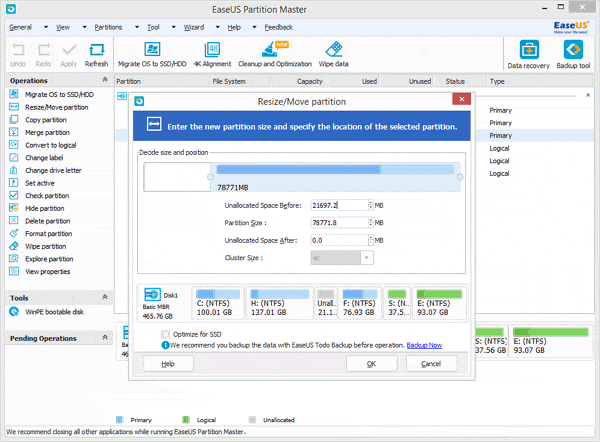 3. After the steps above, there is unallocated space behind C:. Now, use "Resize/Move partition" to extend C: partition.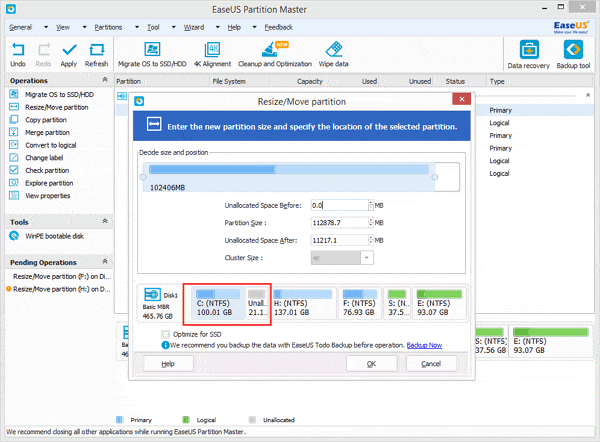 4. Click Apply.
Feedback on this article:
Thanks for visiting EaseUS, please let us know how we can improve this article or make it more useful to you. Should you need technical support please feel free to contact support@partition-tool.com.