Server 2003 repartition dynamic disk guide - resize dynamic disk
EaseUS Partition Master Server Edition
ALL-IN-ONE Windows Server disk management toolkit
Time Limited Offer - 20% OFF
$127.20 $159.00

30-day Money Back Guarantee
A dynamic disk is converted from basic disk in Windows Disk Management. A dynamic volume is constructed by one or more dynamic disks that provides features that basic disks do not contain, such as support for volumes spanning multiple disks. Dynamic disks use a hidden database to track information about dynamic volumes on the disk and other dynamic disks in the computer. A disk managed by a software RAID provider with support for flexible volume reconfiguration. A dynamic disk uses a partition as a container for volumes; there is no guaranteed mapping.
What is the advantage of Server 2003 dynamic disk?
Windows Server 2003 provides more service than the early Windows edition and it is still being widely used nowadays. Besides, you can convert basic disk to dynamic in Disk Management and you can create all kinds of dynamic volume in Windows Server 2003. Each dynamic volume has its own feature:
1. Simple Volume: you can create volumes without the 26 alphabet naming limitation.
2. Spanned Volume: create or extend volume spanning multiple disks.
3. Mirrored Volume: momentarily and automatically backup one disk to another to protect the data.
4. Striped Volume: improve the read speed.
5. RAID5 Volume: better use the disk space and protect data.
Familiar trouble of Server 2003 dynamic disk?
1. Due to Windows limitation, system volume, boot volume, Striped Volume, Mirrored Volume and RAID5 Volume cannot be resized or expanded. So if the system partition or other volume is out of space, you cannot repartition.
2. You cannot convert dynamic disk back to basic without data loss.
3. You cannot backup or clone dynamic volume in Windows Server 2003.
How to solve Windows Server 2003 repartition dynamic disk problem?
To solve Windows Server 2003 repartition dynamic disk problem, you just need one feature - copy dynamic volume. Please be patient, I'll explain and guide you step by step.
To solve the problem of Windows Server 2003 repartition dynamic disk listed above, don't rely on Disk Management, even third party software cannot repartition or resize dynamic disk directly. The only method is copying dynamic volume to a basic disk firstly and then resizing the basic disk, at last convert it back to dynamic disk. There is other software that can convert dynamic disk to basic directly (not by copying), but it is not safe to convert directly and this feature only support converting the dynamic disk with a Simple Volume.
Dynamic volume is different from basic disk, as it constructed with several disks and the data was written to each disk, so to backup or clone the data, you need to copy the Dynamic Volume, not to copy a physical dynamic disk, otherwise, you will get part of the data fragment, and it is useless.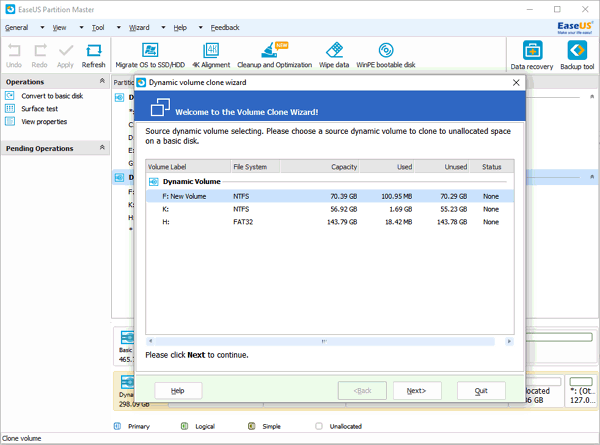 Step1: choose the dynamic volume.
Step2: choose a target basic disk.
Step3: repartition (edit the partition size) the target basic disk.
Done.
As partition manager server, EaseUS Partition Master can help you do Windows Server 2003 repartition dynamic disk, resize dynamic disk, backup/copy dynamic volume safely. More features...
Related articles: