EaseUS Partition Master Server Edition
ALL-IN-ONE Windows Server disk management toolkit
Time Limited Offer - 20% OFF
$127.20 $159.00

30-day Money Back Guarantee
Server partition manager to manage your Windows Server in an easier way
Server partition manager is increasingly wanted since more and more users need to manage their server partitions to maximize the partition performance. Speaking of partition management tools, you might think of "Disk Management" function available on all Operating System. However, some advanced functions, for example, if there is no unallocated space behind the partition you want to extend, you cannot extend the partition via this tool of Windows Server 2008, but Windows Server 2000 and 2003 don't have this function. Thus, some other excellent server partition manager is needed, such as EaseUS Partition Master Server Edition.
Introduction on "Disk Management" function
1. Accessing Disk Management
There are a few different ways to access Disk Management. I'll list three different methods and you will see whichever is more convenient.
Method 1: Start > Control Panel > Performance and Maintenance > Administrative Tools. Double click Computer Management and then click Disk Management in the left hand column.
Method 2: By default, Administrative Tools is not shown on the Start Menu but if you have modified the Start Menu (by right clicking the Start button and selecting Properties > Customize) so it is shown then just select Start > Administrative Tools > Computer Management and then click Disk Management in the left hand column.
Method 3: Click Start > Run and type diskmgmt.msc in the Open line and click OK. The Disk Management snap-in will open.
2. Three Basic Areas of Disk Management
The basic Disk Management console is divided into three main areas and just about as straightforward as one can get. The following image is for your reference.
The tall vertical column on the left defined by the green color is the Console Tree. If Method 3 above is used to open Disk Management it will open without the Console Tree being displayed. The red and blue areas are referred to as Top and Bottom and are both user definable via the View menu option. By default, the Top area displays the Volume List and the Bottom area displays the Graphical View. A third view called Disk List can be substituted in either pane if it's more to your liking, or the Bottom pane can be hidden completely. The View menu option also contains a [Settings...] option that allows adjustment of the color schemes, size of the drive displays and a few other options so the console can be tailored to individual taste.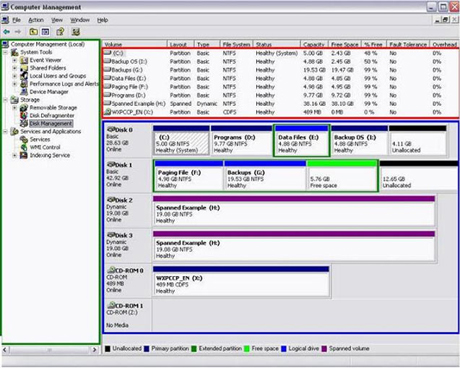 3. Basic Disk Management Functions
Create partitions, logical drives, and volumes.
Delete partitions, logical drives, and volumes.
Format partitions and volumes.
Mark partitions as active.
Extend and shrink volumes (only available in Windows Vista, Server 2008, Windows 7 and Windows 8).
Assign or modify drive letters for hard disk volumes, removable disk drives, and CD-ROM drives.
Obtain a quick visual overview of the properties of all disks and volumes in the system.
Create mounted drives on systems using the NTFS file system.
Convert basic disks to dynamic disks.
Convert dynamic to basic disks, although this is a destructive operation.
On dynamic disks, create a number of specialty volumes including spanned, striped, mirrored, and RAID-5 volumes.
Why do we need third party server partition manager software?
Windows Server computers can be used as Database server, Files server, Mail server, News server and Web server, etc. For its excellent security and secrecy, Windows server is more and more widely-used to store important data. Sometimes the server computer administrator needs to manage their server partitions to extend the partition performance. However, as mentioned above, Disk Management, which can be found on all Operation System, only allows basic partition operations. Some other advanced partition operations are not supported.
For example, on the Windows server, when the boot partition C: is out of space, the server computer will be fighting for the precious space and will run slowly. To start over is a solution. But no one would like to waste hours or days to do it. The most time-saving and easy way is to extend system partition (C: drive).
Thus, server partition manager with advanced features, such as resize/move server partition without destroying data, copy server partition/disk in a secure and effective way, are needed for users who run Windows server.
Choose the right server partition manager for your Windows server
Unsuitable operation might lead to data lose and some unreliable software might also damage your disk and partitions. Using the right server partition manager is the first step to manage your server partitions securely. And EaseUS Partition Master Server Edition is a nice choice which can help server IT administrators to manage Windows server faster and more stable.
Compatible with Windows Server 2000/2003/2008 and non-server Windows 2000/XP/Vista/Windows 7 (32 and 64 bit) and Windows 8 system, EaseUS Partition Master Server Edition allows you to perform basic and advanced partition operations on your server without data loss, including: create and delete partitions, resize and move partitions, Copy Partition, Copy Disk, format partitions, hide and unhide partitions, set active partition, etc. Changes of server partition can be previewed before applying to hard disk and all data is completely protected during all operations.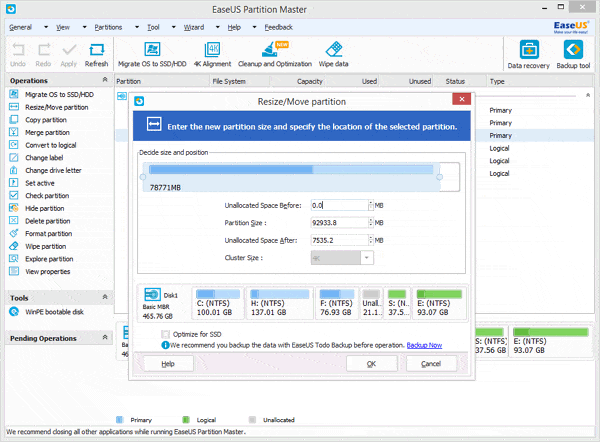 As for how to resize windows server partition, please visit: Resize Partition of Windows 2003 Server with EaseUS Partition Master Server Edition for more details.
Other hot features of EaseUS Partition Master Server Edition
1. Hardware RAID supported: It works perfectly with hardware RAID.
2. Up to 32 hard disks: It can handle up to 32 hard disks, which makes it a good choice for server systems.
3. 2TB+ hard disk is supported.
4. Bootable CD/DVD: Creates a bootable CD/DVD to manage partitions easier and faster.
5. Hard Disk Copy or Partition Copy Wizards - Easily upgrade/migrate hard drive or copy partition to protect data.
EaseUS Partition Master Server Edition
ALL-IN-ONE Windows Server disk management toolkit
Time Limited Offer - 20% OFF
$127.20 $159.00

30-day Money Back Guarantee
More EaseUS Partition Master Editions for business users
Unlimited usage within a company
-
-
Free lifetime upgrades
-
-
Provide Technical Services to Clients
-
-
-
-
License
Machine License
Machine License
Unlimited License
Unlimited License
Technician License
Price

$127.20

$159.00

$207.20


$259.00

$319.20

$399.00

$399.20


$499.00

$559.20

$699.00
Related Articles:
Feedback on this article:
Thanks for visiting EaseUS, please let us know how we can improve this article or make it more useful to you. Should you need technical support please feel free to contact support@partition-tool.com.