EaseUS Partition Master Server Edition
ALL-IN-ONE Windows Server disk management toolkit
Time Limited Offer - 20% OFF
$127.20 $159.00

30-day Money Back Guarantee
Commonly used hardware RAID
A RAID distributes data across several physical disks which look to the operating system and the user like a single disk. Several different arrangements are possible. We assume here that all the disks are of the same capacity, as is usual. A number of standard schemes have evolved which are referred to as levels. There were three RAID levels below used most commonly, but many more variations have evolved, notably several nested levels (such as RAID 0+1, RAID 1+0, RAID 5+0, RAID 5+0, etc.) and many non-standard levels (Most of these non-standard RAID levels are proprietary).
Striped Disk Array without Fault Tolerance: Provides improved performance and additional storage but no fault tolerance. Any disk failure destroys the array, which becomes more likely with more disks in the array. A single disk failure destroys the entire array because when data is written to a RAID 0 drive, the data is broken into fragments. The number of fragments is dictated by the number of disks in the array. The fragments are written to their respective disks simultaneously on the same sector. This allows smaller sections of the entire chunk of data to be read off the drive in parallel, giving this type of arrangement huge bandwidth. RAID 0 does not implement error checking so any error is unrecoverable. More disks in the array mean higher bandwidth, but greater risk of data loss.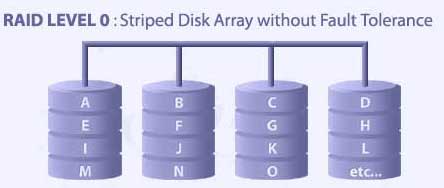 Mirroring and Duplexing: Provides fault tolerance from disk errors and failure of all but one of the drives. Increased read performance occurs when using a multi-threaded operating system that supports split seeks, very small performance reduction when writing. Array continues to operate so long as at least one drive is functioning. Using RAID 1 with a separate controller for each disk is sometimes called duplexing.

Block Interleaved Distributed Parity: Distributed parity requires all drives but one to be present to operate; drive failure requires replacement, but the array is not destroyed by a single drive failure. Upon drive failure, any subsequent reads can be calculated from the distributed parity such that the drive failure is masked from the end user. The array will have data loss in the event of a second drive failure and is vulnerable until the data that was on the failed drive is rebuilt onto a replacement drive.

EaseUS Partition Master Server Edition
ALL-IN-ONE Windows Server disk management toolkit
Time Limited Offer - 20% OFF
$127.20 $159.00

30-day Money Back Guarantee
More EaseUS Partition Master Editions for business users
Unlimited usage within a company
-
-
Free lifetime upgrades
-
-
Provide Technical Services to Clients
-
-
-
-
License
Machine License
Machine License
Unlimited License
Unlimited License
Technician License
Price

$127.20

$159.00

$207.20


$259.00

$319.20

$399.00

$399.20


$499.00

$559.20

$699.00
Feedback on this article:
Thanks for visiting EaseUS, please let us know how we can improve this article or make it more useful to you. Should you need technical support please feel free to contact support@partition-tool.com.