EaseUS Partition Master Professional Edition
ALL-IN-ONE Windows partition manager software
Time Limited Offer - 20% OFF
$31.96 $39.95

30-day Money Back Guarantee
How to Switch from FAT32 to NTFS?
Switch from fat32 to ntfs?
"Is FAT32 slower in any way than NTFS? Somebody tells me that NTFS is much safer than FAT32, it is less likely that NTFS gets corrupted, etc.? And all my drives are FAT32 file system, is there anyone can tell me how can I switch from FAT32 to NTFS?"
FAT32 is in use on millions of Windows PCs around the world. It's OK in most ways, but has no provision for automatic file-fixing when things go wrong. With continual development and improvement of Windows, it might be a good practice to experience the newer and better file system - NTFS. NTFS, considered as an advanced file system, is well-known for its performance, security, reliability, and advanced features that are not found in any version of FAT.
Reasons to switch from FAT32 to NTFS
1. NTFS is the best file system for large drives. Unlike FAT and FAT32, performance with NTFS isn't corrupted as drive size increases.
2. One of the major security features in NTFS is encryption or, in other words, the process of disguising a message or data in such a way as to hide its substance.
3. Another feature in NTFS is disk quotas. It gives you the ability to monitor and control the amount of disk space used by each user.
4. Using NTFS, you can keep access control on files and folders and support limited accounts. In FAT and FAT32, all files and folders are accessible by all users no matter what their account type is.
5. Domains can be used to tweak security options while keeping administration simple.
6. Compression available in NTFS enables you to compress files, folders, or whole drives when you're running out of disk space.
7. Removable media (such as tapes) are made more accessible through the Remote Storage feature.
8. Recovery logging helps you restore information quickly if power failures or other system problems occur.
Ways to switch FAT32 to NTFS
Yes, there are several ways to switch from FAT32 to NTFS, say, you can format the partition directly, use the Windows in-built utility called CONVERT serving this purpose, or turn for an easier and safer way - partition manager software to realize it. For the former two ways, technical knowledge is needed for a safe and successful conversion from FAT32 to NTFS, if not, you absolutely pose yourself great risk in data loss, what a nightmare!
EaseUS Partition Master, a good partition manager that allows you to do the basics of partition management (resize, format, delete, copy partition/disk, explore, etc.), will do a wonderful switch from FAT32 to NTFS.

You can learn its step-by-step instructions here: How to Convert FAT Partition to NTFS?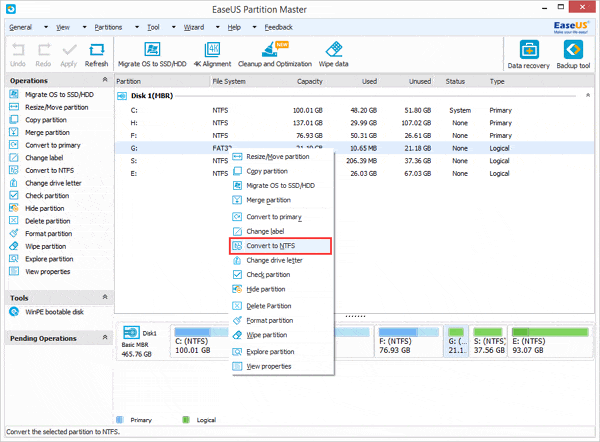 Although the chance of corruption or data loss during the switch from FAT32 to NTFS is minimal, it is best to perform a full backup of the data on the drive that it is to be switched prior to executing the convert command.
Related Articles: