Why to upgrade to a larger disk?
Does your disk often run out of space which makes you unable to upgrade applications and the programs, upgrade system as well as for more data storage? At this time, it means that you should upgrade to a newer and larger disk and then install all applications upgrade and operating system.
The symptom is that Windows will alert you by popping out a Windows low disk alert indicates: "You are running out of disk space on Local Disk [drive]. To free space on this drive by deleting old or unnecessary files, click here." or some other kinds of disk space warning.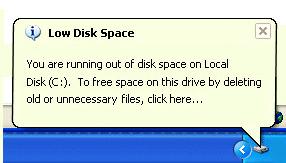 How to solve disk low space?
To solve the low disk space issue, we would like to share three useful ways to increase disk space:
Remove some programs that installed in your computer
Extend partition by shrink the other partition and extend the partition which is too small
Change the disk to a new one with a larger size and transfer all the data from the old disk to the new one
How to upgrade to a larger disk?
The first way can be realized easily and you may click the link of "Extend partition" to find the detailed way to extend the partition. Here we would like to introduce one way to upgrade disk for applications upgrade, data storage and system installation like Windows 7, that is, to upgrade disk with free disk copy software.
1. Please download the full version of this freeware and then follow to upgrade the disk by copying whole disk to the new one. By the way, after the disk copy is finished, you may resize each partition to proper size that you want for different usage.
2. Connect the newer larger disk and then start the software.
3. Select "Upgrade disk".
4. Disk Clone Wizard will automatically check the source disk and after check, click Next.
5. Choose the destination disk, and then click "Next".
6. You may resize partitions on the destination disk. On a disk map, current size of the partitions on the destination disk is displayed on the top of the dialog box. Position the mouse pointer on the left or right partition handle; the mouse pointer changes to a double-headed arrow and drag the handle to the partition size you want. Click Next.
After the above steps, please replace the original disk with the new one and then boot from it.
Apart from clone disk features. This free partition manager can also help you to manage Windows based partitions, like Windows 2000/XP/Vista and Windows 7 32/64 bit and Windows 8.
More basic partition features and advanced partition features...
Furthermore, are you still finding the Best free partition manager for Windows 7 and Windows 8 system hard disk management? Here is a good one, why not try it now?
Related Articles:
Feedback on this article:
Thanks for visiting EaseUS, please let us know how we can improve this article or make it more useful to you. Should you need technical support please feel free to contact support@partition-tool.com.