EaseUS Partition Master Server Edition
ALL-IN-ONE Windows Server disk management toolkit
Time Limited Offer - 20% OFF
$127.20 $159.00

30-day Money Back Guarantee
Partition software for 64 bit Server
Difference between 64 bit and 32 bit Server
One may think that the important difference between 64 bit and 32 bit is about a double speed for processors according to the talks about the 64 bit; however, it's about memory rather than speed. A computer with a 32 bit processor can use up to 4 GB of RAM (only with a capable motherboard) While 64-bit architecture will allow systems to address up to one terabyte (1000GB) of memory. One of the most attractive features of 64-bit processors is the amount of memory the system can support.
A great number of huge files can be loaded with a 64 bit processor, which is good news to these companies and organizations with the access of huge number of data. Many of them have already made the transition to 64-bit Servers, which can efficiently load large enterprise databases into memory resulting in faster searches and data retrieval. Have you ever tried to imagine how huge the database needed to run those delightful sites, such as Google, E-bay.
Best server partition software for 64 bit Server
To load large enterprise databases, a 64 bit Server also supports huge hard disks. However, if there are no good partition software to manage these huge hard disks, the performance of a 64 bit server would be compromised. Then, the 64 bit Server users have a hard task when they want to expand their system partitions to install new software: to choose a safe partition software which will not lead to any data lost on the Server.
Much good partition software allows you to resize, move, create, delete and format the partitions that you have on your hard disk (or hard disks). Here we would like to introduce easy and safe partition manager software - EaseUS Partition Master.
Among kinds of third-party server partition software, EaseUS Partition Master Server Edition does a good job and is more cost-saving to protect your data for 64 bit Server users. In addition to the 32 bit Operating System, it also works well with 64 bit Windows systems - Windows 2000/2003/2008 Server (32 and 64 bit), and Windows XP/Vista/Windows 7 (32 and 64 bit) systems. It can help you resize/move partition without losing data, disk copy, partition copy, recover partition, create, delete and format partitions, etc. All partition changes can be previewed before they are implemented on a hard drive, and all data is completely protected throughout the operation. EaseUS Partition Master Server Edition is a best 64 bit server partition software to choose.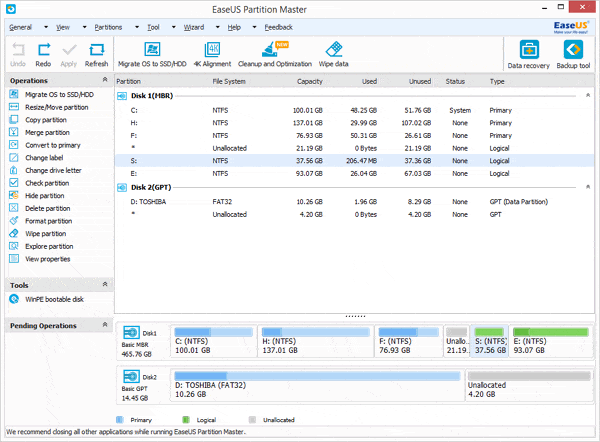 EaseUS Partition Master Server Edition
ALL-IN-ONE Windows Server disk management toolkit
Time Limited Offer - 20% OFF
$127.20 $159.00

30-day Money Back Guarantee
More EaseUS Partition Master Editions for business users
Unlimited usage within a company
-
-
Free lifetime upgrades
-
-
Provide Technical Services to Clients
-
-
-
-
License
Machine License
Machine License
Unlimited License
Unlimited License
Technician License
Price

$127.20

$159.00

$207.20


$259.00

$319.20

$399.00

$399.20


$499.00

$559.20

$699.00
Related Articles:
Feedback on this article:
Thanks for visiting EaseUS, please let us know how we can improve this article or make it more useful to you. Should you need technical support please feel free to contact support@partition-tool.com.