How to merge partitions under Windows 7 (32 and 64 bit)?
Why we need to merge Windows 7 partitions?
If you have a partitioned hard disk and one of the partitions is running out of space, you can choose to merge partitions for larger drive space.And you can also choose to merge partitions for more free drive space under any other situations like:
"I installed windows 7 and I don't know what I did wrong, but this is what I end up with: C: 1.66 GB free of 9.44GB, where as I have total of 80 GB hard drive. And then I have drive "E" which has 64 GB free drive space. So how can I merge the partitions?" "I have partitions C and D. My problem is that C is smaller than D. How can I move some space to C from D or merge these partitions?" etc. No matter what is the reason, if you want to merge windows 7 partitions, you can achieve the goal by using EaseUS Partition Master.
Why merge partitions under Windows 7 with EaseUS Partition Master?
For Windows 7, you can merge partitions with built-in Disk Management. But be noted that you need to delete the other partition first since Disk Management cannot resize the partition directly. While EaseUS Partition Master provides "Merge partition" feature to merge two neighbourpartitions directly. The comparison table below is about the main features between Windows 7 Disk Management and EaseUS Partition Master.
To ensure data security, EaseUS Partition Master also provides copy wizard to backup all the data in a safe place to avoid any unexpected data loss. Or you can choose free backup software to create image file to backup.
How to merge partitions under Windows 7 with EaseUS Partition Master?
Take the scenario that C is out of space while E has plenty of free drive space on the same disk as an example to show the step-by-step instruction of how to merge partitions under Windows 7 with EaseUS Partition Master:
1. Backup the partitions you want to merge.
2. Launch EaseUS Partition Master and go to the main screen.
3. Click the partition you want to merge on system disk, then click Partitions and select Merge partition on toolbar. Or right click that partition on system disk and select Merge partition.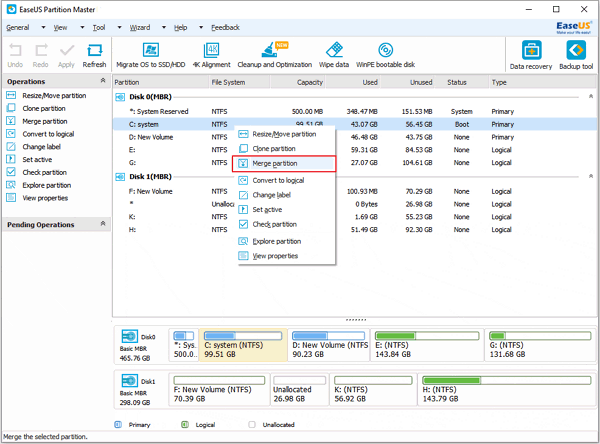 4. In this Merge partition window, you should first choose two neighbour partitions in the partition layout, then choose the merge destination by selecting a partition label.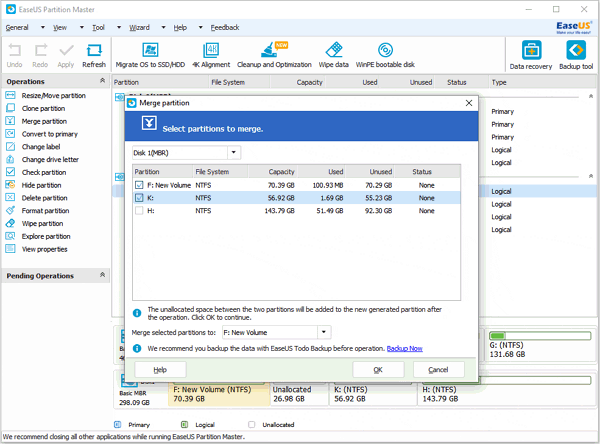 5. Click OK, the program will check file system on the partition.
6. Click Apply, you have successfully merged the partitions.
Tip: System partition and boot partition can only be set as destination. The same to the partition installed EaseUS Partition Master.
Other features of EaseUS Partition Master
EaseUS Partition Master, an all-in-one disk management solution, also provides Partition Recovery and Copy Wizard other than handling partition management issues like extend partition, resize/move partition, split/merge partition(s) and convert dynamic disk to basic etc. as partition manager.
Related Articles: