EaseUS Partition Master Server Edition
ALL-IN-ONE Windows Server disk management toolkit
Time Limited Offer - 20% OFF
$127.20 $159.00

30-day Money Back Guarantee
How to partition Windows 2008 64 bit Server easily and safely?
To partition Windows Server 2008 is an increasing need for IT administrators to maximize their system performance of Windows Server. Since Windows Server 2008, the latest Windows Server, is more and more widely-used in large enterprises, how to partition Server 2008 gains greater interest.
How much do you know about Windows Server 2008
Windows Server 2008 is one of Microsoft Windows' server lines of operating systems. Released to manufacturing on February 4, 2008, and officially released on February 27, 2008, it is the successor to Windows Server 2003, released nearly five years earlier. A second release, named Windows Server 2008 R2, was released to manufacturing on July 22, 2009. Like Windows Vista and Windows 7, Windows 8, Windows Server 2008 is built on Windows NT 6.x.
Microsoft Windows Server 2008 is a typical example of next Server series. With Windows Server 2008, IT professionals have better control over their Servers and network infrastructure, then they can concentrate on some critical business needs. Windows Server 2008 creates a safer system and network environment, so it can be regard as the best choice for Server computers of enterprises and organizations so far.
Most editions of Windows Server 2008 are available in x86-64 (64-bit) and x86 (32-bit) versions. Windows Server 2008 for Itanium-based Systems supports IA-64 processors. The IA-64 version is optimized for high workload scenarios like database servers and Line of Business (LOB) applications.
Common partition problems on Windows Server 2008
Serveral cases below may be the most common situations that Server users usually come across.
insufficient system partition space

With more and more applications installed in the system partition, your system partition may be filled with all sots of files, and your computer may run with great difficulty. How to find a proper way to extend the system partition without taking a risk with my data?

Hard to find an easy-to-use software for computer beginner

To partition Windows 2008 64 bit Server is a challenging job for people who are not professional in computer. Most importantly, the "Disk Management" function built in the Operation System only allows basic partition functions like shrinking volume and extending volume. Without the function to move the partition, it is impossible to resize Windows Server 2008 system partition when there is no unallocated space behind it. Is there any easy, safe, and fast way to partition Windows 2008 64 bit Server system?
I will share with my personal experience with you in the following part, just for your consideration.
How to partition Windows 2008 64 bit Server?
To back up your computer before partitioning can save your computer security. Try EaseUS Todo Backup Server before resizing your server partition.
As server partition manager software, EaseUS Partition Master Server Edition can help you to partition Windows 2008 64 bit systems with ease. Moreover, EaseUS Partition Master supports all hardware RAID.
The following is step-by-step instruction to extend system partition on Windows Server 2008 64 bit.
1. Launch EaseUS Partition Master.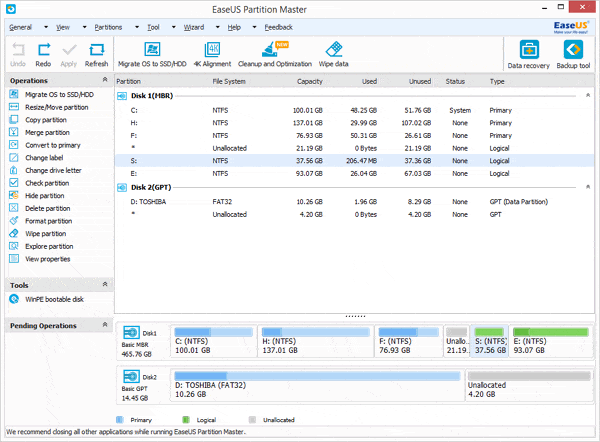 2. Right click a partition, select "Resize/Move partition" and drag the partition handle leftwards to change partition size.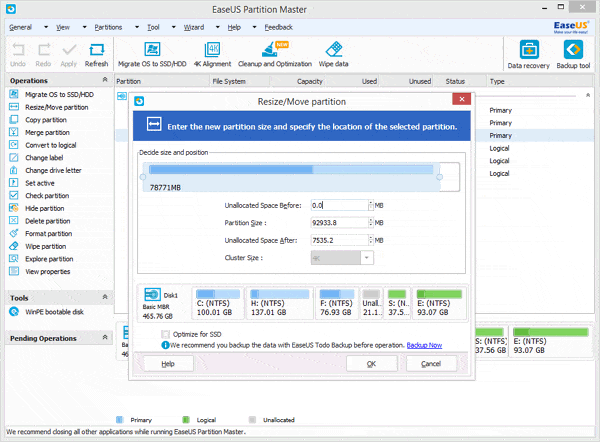 3. Move E: drive rightwards to make sure that the system partition has enough space to extend by draging partition handle.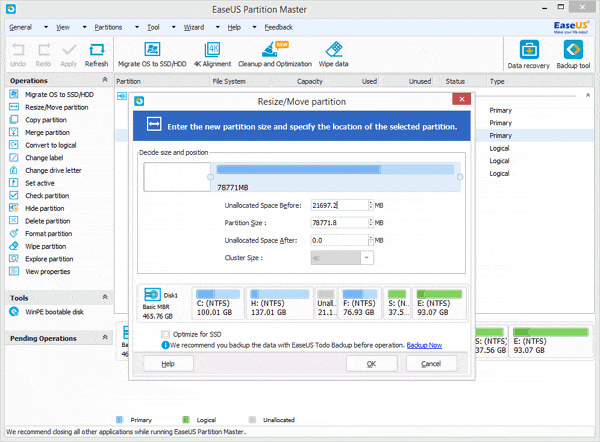 4. Drag the system partition handle rightwards to extend it.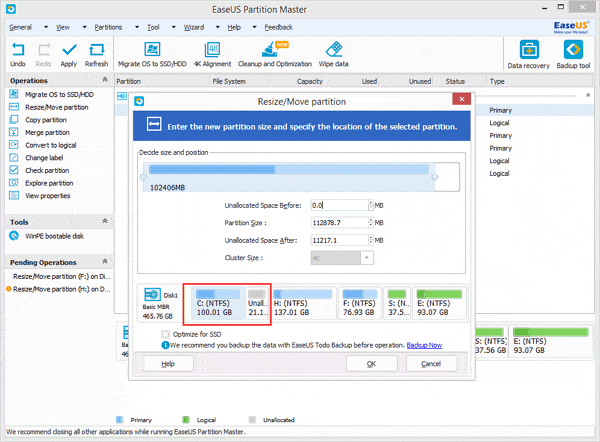 5. Click Apply. You will partition Windows Server 2008 64 bit successfully.
With EaseUS Partition Master, you can make use of "Merge partition" to expand partition size.
EaseUS Partition Master Server Edition
ALL-IN-ONE Windows Server disk management toolkit
Time Limited Offer - 20% OFF
$127.20 $159.00

30-day Money Back Guarantee
More EaseUS Partition Master Editions for business users
Unlimited usage within a company
-
-
Free lifetime upgrades
-
-
Provide Technical Services to Clients
-
-
-
-
License
Machine License
Machine License
Unlimited License
Unlimited License
Technician License
Price

$127.20

$159.00

$207.20


$259.00

$319.20

$399.00

$399.20


$499.00

$559.20

$699.00
Related Articles:
Feedback on this article:
Thanks for visiting EaseUS, please let us know how we can improve this article or make it more useful to you. Should you need technical support please feel free to contact support@partition-tool.com.