EaseUS Partition Master Server Edition
ALL-IN-ONE Windows Server disk management toolkit
Time Limited Offer - 20% OFF
$127.20 $159.00

30-day Money Back Guarantee
How to extend SBS 2008 Server partition with Server partition software?
Windows Server users always come across the following problem:
Your server is working slowly as the system partition is running out of space and suffering from low disk space problem. Then how to extend SBS 2008 Server system partition?
Windows Server users need to extend SBS 2008 Server partition to optimize the hard disk usage and improve the performance of their Servers. This article will talk about Windows SBS 2008 (Small Business Server 2008) and the way to extend SBS 2008 Server partition without data loss.
Windows SBS 2008
Microsoft Windows Small Business Server 2008 is short for SBS 2008. It was released on November 12th, 2008, including standard edition and premium edition. The standard edition is a single server solution for small businesses, the premium edition contains a license for Windows Server 2008 and SQL Server 2008 Standard Edition, with the option to run SQL Server on either the main SBS server, or a second server. SBS 2008 not only presents previous versions' features, but also adds new features:
1. A streamlined administration and management console that is designed around tasks to be accomplished rather than underlying technologies.
2. Built-in support for registering and configuring domain name and DNS records via multiple registrars.
3. Monitoring reports that gather data from both servers and clients on the network, including Security Center status from all the clients.
4. New features in the Remote Web Workplace, such as the ability to define default and allowed PCs for each user.
5. Office Live Small Business integration for and configuring a public web site or extranet.
6. New server backup features, based on the incremental block-based backup technology in Windows Server 2008.
7. SBS 2008 requires installation behind a separate network firewall device. In contrast with SBS 2003, it does not support being installed directly on the edge of the network, ISA Server is no longer bundled and a dual-NIC configuration is not possible.
How to extend SBS 2008 Server partition?
Solution 1: Windows SBS 2008 Disk Management
Comparing to SBS 2003, SBS 2008 built in Disk Management can extend partition by its "Extend Volume" feature. But SBS 2008 Disk Management has a huge disadvantage that it cannot move partitions. What does it mean? Without the function to move partitions, SBS 2008 Disk Management can only extend partition unless there is unallocated space behind this partition. Otherwise, you have to delete the partition behind it. So you may need to copy all the data on that partition to other location. This process needs quite a long period of time if your partition contains much data. Often, we recommend you to choose a Windows server partition software which can extend SBS 2008 Server partition with simple operations even if there is no unallocated space behind it.
Solution 2: Windows Server partition software
As server partition software, EaseUS Partition Master Server can extend SBS 2008 Server partition safely with simple operations by its "Resize/Move partition" feature. Moreover, EaseUS Partition Master can extend NTFS system partition without reboot and be booted from a bootable USB drive. The following is step-by-step instructions to extend SBS 2008 Server system partition.
Tips: It is important to back up the server before resizing server partition, because nothing is 100% secure.
1. Launch this server partition software - EaseUS Partition Master Server Edition.
2. Select partition E:, right click it to select "Resize/Move partition", drag the partition handle leftwards to resize E drive. Then there will be unallocated space behind it.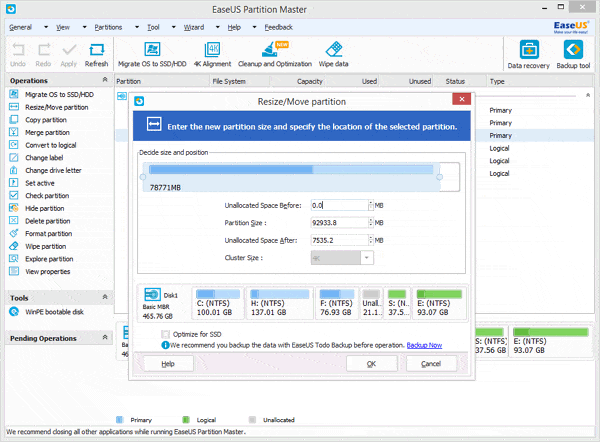 3. Move E: drive rightwards and then there will be unallocated space behind the system partition (C: drive), click OK.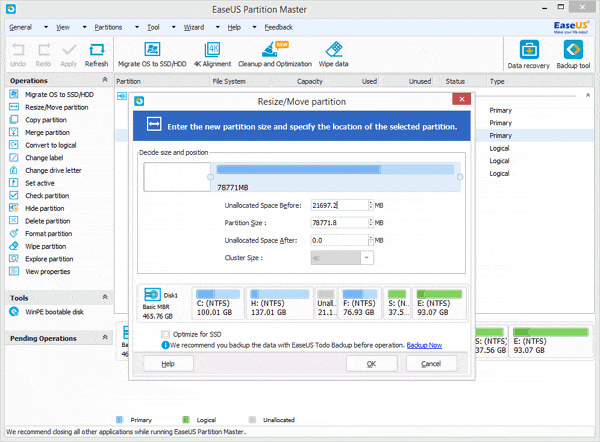 4. Extend the system partition by dragging the partition handle rightwards.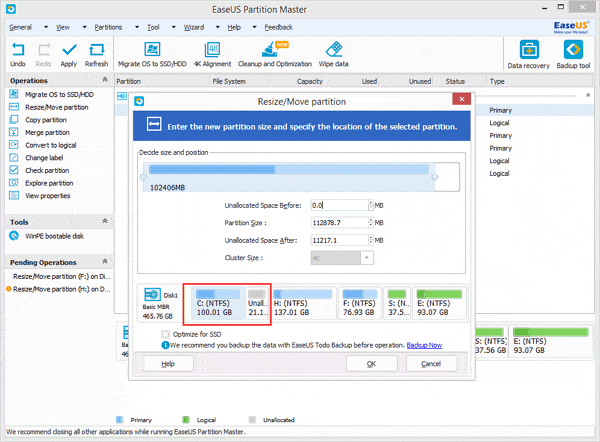 5. Click Apply. You will extend sbs 2008 server partition without data loss.
See how to resize partition size by merging partition?
EaseUS Partition Master also provides Partition Recovery Wizard and Disk and Partition Copy Wizard features to solve more SBS 2008 Server disk and partition problem.
EaseUS Partition Master Server Edition
ALL-IN-ONE Windows Server disk management toolkit
Time Limited Offer - 20% OFF
$127.20 $159.00

30-day Money Back Guarantee
More EaseUS Partition Master Editions for business users
Unlimited usage within a company
-
-
Free lifetime upgrades
-
-
Provide Technical Services to Clients
-
-
-
-
License
Machine License
Machine License
Unlimited License
Unlimited License
Technician License
Price

$127.20

$159.00

$207.20


$259.00

$319.20

$399.00

$399.20


$499.00

$559.20

$699.00
Related Articles:
Feedback on this article:
Thanks for visiting EaseUS, please let us know how we can improve this article or make it more useful to you. Should you need technical support please feel free to contact support@partition-tool.com.