EaseUS Partition Master Server Edition
ALL-IN-ONE Windows Server disk management toolkit
Time Limited Offer - 20% OFF
$127.20 $159.00

30-day Money Back Guarantee
Windows 2008 Disk Management alternative - EaseUS Partition Master
Under Windows Server 2008, conventional hard disk storage continues to be the long-term storage method of choice rather than solid state drive (SSD) or hybrid hard drive (HHD), so you still need to do Windows 2008 disk management by server partition software or the Disk Management to get best use of your device.
Windows 2008 Disk Management overview
Disk Management, a part of the Microsoft Management Console, is a system utility to manage hard disks and the partitions, both local and remote.
Windows 2008 Disk Management enables users to do most of the daily disk and partition management. With its graphical user interface, Windows 2008 Disk Management can provide intuition reflection of the system and the relationships between installed disks.
With Disk Management, you can initialize disks, create volumes, and format volumes with the FAT, FAT32, or NTFS file systems.
With Disk Management, extend and shrink volumes directly from the Windows interface.
Disk conversion options under Disk Management enables you to convert basic disk to dynamic or to the GUID partition table (GPT) partition style when you add more than four partitions to a basic disk.
Why need Windows 2008 Disk Management alternative?
To access Windows 2008 Disk Management, the most frequently used method is "Click Start > Run and enter diskmgmt.msc in the Open: line and click OK." The Disk Management snap-in will open.
Basic Disk Management functions under Windows Server 2008 including:
Create/Delete partitions.
Format partitions.
Set partition as active.
Assign or modify drive letters for partitions.
View the property of all the disks under the system.
Dynamic and basic disks conversion.
On dynamic disks, create a number of specialty volumes including simple, spanned, striped, mirrored, and RAID-5 volumes.
Shrink/Extend partitions.
It appears that the Widows 2008 Disk Management can do most of the job, actually, there is a vital disadvantage that it cannot move partitions. It means that Widows 2008 Disk Management can only extend 2008 server partition unless there is unallocated space adjacent to this partition.
As a matter of fact, most of the people use the Disk Management tool only when they find the system partition is out of space. What they really want to do is to expand their system partition. If there is no unallocated space right behind their system partition, the powerful Disk Management is useless.
On this occasion, if you insist to use Windows Server 2008 Disk Management to extend your system partition, you can backup the partition right behind the system partition and then delete this partition. But I can guarantee that you have another easier method to extend your systen partition.
Windows Server 2008 partition manager can solve it easily and help to extend Windows 2008 Server partition with simple operations even if there is no unallocated space behind the partition. By the way, server partition manager not only provides basic partitioning functions, but also advanced ones. For more partitioning operations...
Windows 2008 Disk Management alternative - what can EaseUS Partition Master offer?
As all-around server partition software, EaseUS Partition Master offers a bundle of rich partition management functions for Windows 2008 disk management. Generally, key features of EaseUS Partition Master's partition manager section including: Extend System Partition, Resize/Move Partition, Create Partition, Merge Partitions, Rebuild MBR, disk defragmentation, Wipe Disk, Create a Bootable CD/DVD, Set an Active Partition etc. All hardware RAID supported.
Tips: It is important to back up the server before resizing server partition, because nothing is 100% secure.
1. Launch this server partition software - EaseUS Partition Master Server Edition.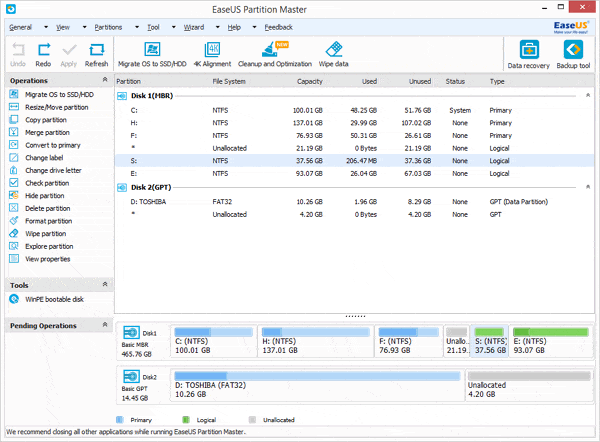 2. Select partition you want to resize, right click it, select "Resize/Move partition" and drag the partition handle to resize the partition. For more detailed information, please visit resizing and moving partitions.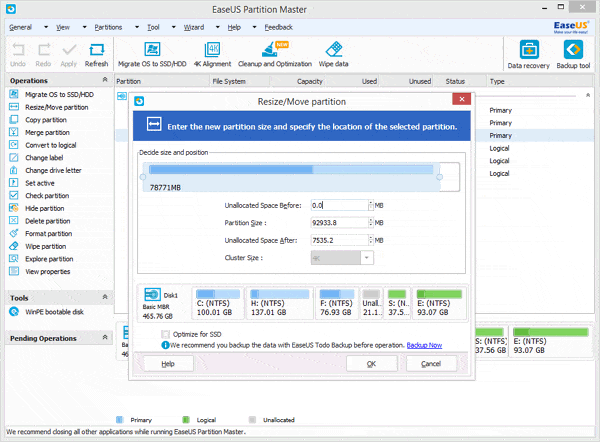 Other features of EaseUS Partition Master
EaseUS Partition Master, an all-in-one disk management solution, also provides Partition Recovery and Copy Wizard other than handling partition management issues like extend system partition, resize/move partition, split/merge partition(s) and so on as partition manager.
Related Articles: