EaseUS Partition Master Server Edition
ALL-IN-ONE Windows Server disk management toolkit
Time Limited Offer - 20% OFF
$127.20 $159.00

30-day Money Back Guarantee
How to solve Windows Server 2008 low disk space problem?
Windows Server 2008 low disk space problem
Hi, I used Windows Server 2008 and it has a 320G hard drive, C drive needs to be bigger since I get "low disk space" warning. So I would like to make it larger without losing anything or major changes. Can I extend the partition with the free space from other partitions and how to solve the low disk space problem under Windows Server 2008 if possible?
How "low disk space" comes?
Our disk space has gradually been used up when we continuously install additional Windows updates, service packs and programs on the computer and store almost all files, personal or business on the hard disk. With reference to Microsoft official site: When free disk space on your computer falls below a specific threshold (generally, 200MB free space left on one partition would ensure a good computer performance, while disk space falls under 80 MB, server deliver strong warning message.), you may receive the following message or one similar to it:
Hard disk is Low Disk Space.
You are running out of disk space on drive C.
To free space on this drive by deleting old or unnecessary files, click Disk Cleanup.
For the situation mentioned above, I am sure most of us are not strange with such warning like "low disk space" or "C drive full" whatever operating system you use. As Windows Server 2008 bringing more advanced features in technical, security, management and administrative, it has been widely used by more and more people now.
This article is mainly to introduce the solution to Windows Server 2008 low disk space problem. To use a third party partition manager EaseUS Partition Master Server Edition to solve partition or disk problem without data loss under Windows Server 2008 by "Resize/move partition" or "Merge partition" to solve disk space.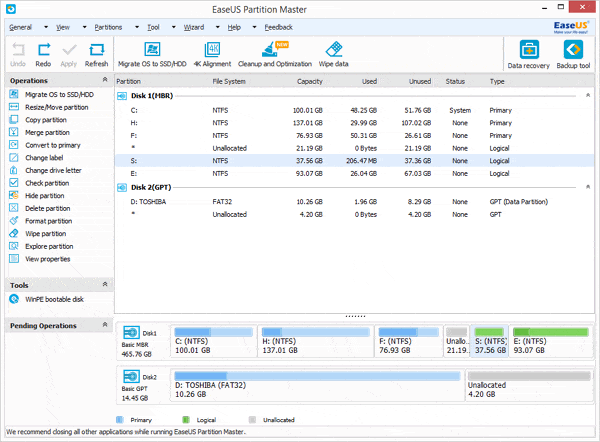 Solution to solve Windows Server 2008 low disk space problem
And for this behavior, Microsoft suggests to either click Cancel to close the message, or click Disk Cleanup to start the Disk Cleanup utility which searches your hard disk for files that you can safely delete and reclaim disk space on your Windows Server 2008. Anyway, this is not the best solution to solve such problem in the long term. So that is why we introduce third party partition manager software to do the work easily.
EaseUS Partition Master Server helps you to extend the partition and solve the low disk space. You can extend the full partition without data loss or formatting. Download EaseUS Partition Master Server and follow the instructions of how to solve Windows Server 2008 low disk space problem.
Guides to extend Server 2008 partition
1. Launch EaseUS Partition Master Server on your computer.
2. Choose a partition you plan to shrink. Select "Resize/Move partition" to change the partition size by dragging the partition handle leftwards.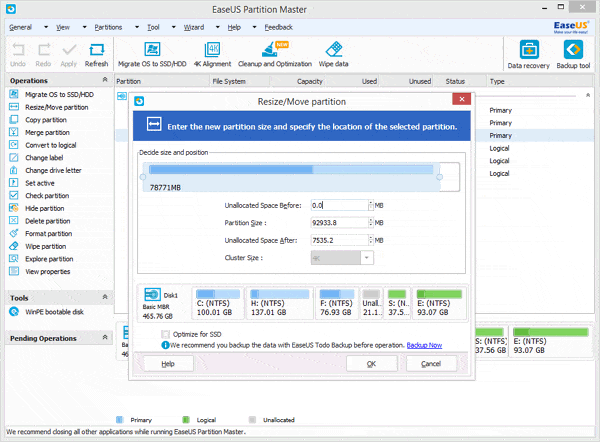 3. Move the partition rightwards to let the unallocated space be behind the system partition (C: drive) and click OK.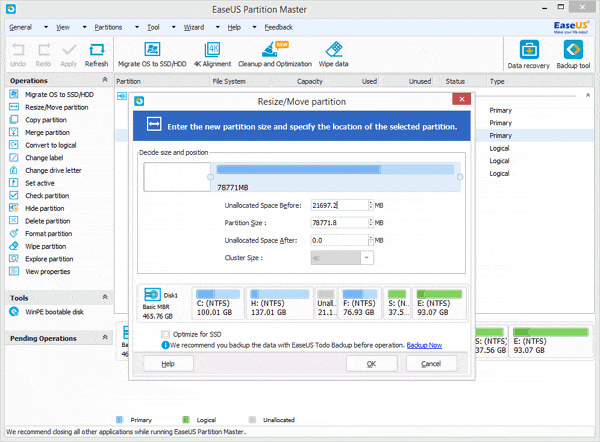 4. Extend system partition by dragging the partition handle rightwards on Windows Server 2008.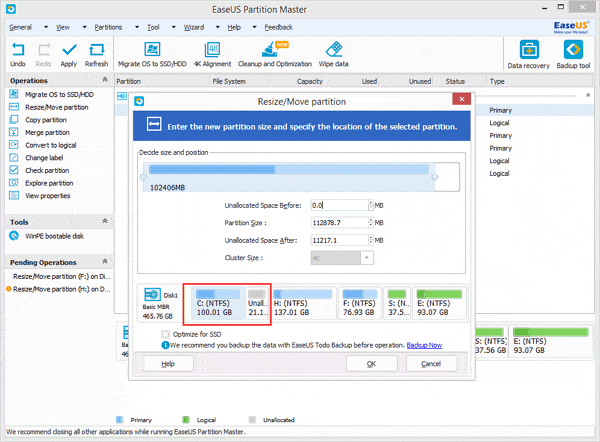 5. Click Apply to get the task done.
For more detailed information, please visit resizing and moving partitions.

Do not forget to back up your server in case of disasters! EaseUS Todo Backup Server, the comprehensive server backup & recovery software, will protect your business from disasters and ensure business continuity.
Fast and easily back up operating system and all important files.
Advanced backup scheduler and incremental backups.
Recover to dissimilar hardware, WinPE bootable disk and much more.
Related Articles: