EaseUS Partition Master Server Edition
ALL-IN-ONE Windows Server disk management toolkit
Time Limited Offer - 20% OFF
$127.20 $159.00

30-day Money Back Guarantee
Server partition software - Windows Server partition is a piece of cake from now on
In this article, we will show you delicate information about Windows Server, format of hard drive and Windows Server partition software. This article will guide you to know more about which type of server you need, how to manage partition on your server computer with Windows Server partition software and how to protect your data on server from loss. After the crash course, you would change from a layman to an advanced professional.
Windows Server introduction
There are many kinds of Windows Server systems these years. Some of them are expired, some of them are outdated, but still in use, and some of them are new and popular at the period. So here we only introduce some existing and popular Windows Server systems.
Windows 2000 Server
Released on 17 February, 2000, it was the successor to Windows NT 4.0, and is the final release of Microsoft Windows to display the "Windows NT" designation.
System requirement: Windows 2000 Server requires 128 MB of RAM and 1 GB hard disk space, however requirements may be higher according to installed components.
Try to find more info on Wikipedia about Windows 2000 Server
Windows Server 2003
Introduced on 24 April 2003 as the successor to Windows 2000 Server, it was considered by Microsoft to be the cornerstone of its Windows Server System line of business server products. An updated version, Windows Server 2003 R2 was released to manufacturing on 6 December 2005.
There are mainly 6 types of Windows Server 2003: Web Edition, Standard Edition, Enterprise Edition, Datacenter Edition, Windows Compute Cluster Server and Windows Storage Server. The differences between each edition you may find at there.
System requirement: Windows Server 2003 requires 256 MB of RAM and 3 GB hard disk space, however requirements may be higher depending on installed components.
Windows Server 2008
Released to manufacturing on 4 February 2008 and officially released on 27 February 2008. Like Windows Vista, Windows 7, Windows 8, Windows Server 2008 is built on the Windows NT 6.0 Service Pack 1 kernel. The second release, named Windows Server 2008 R2, is currently under development and popularity.
System Requirement: Windows Server 2008 requires 512 MB of RAM and 10 GB hard disk space at least, however requirements may be higher depending on installed components.
Try to find more info about Windows Server 2008 on Wikipedia.
The conclusion
In short, each higher edition must be better than the previous one, and will be bigger for system requirement, that is the feature of Microsoft. You may choose which kind of Windows Server system to be your choice according to your condition. Do remember one thing: the actual system requires much more than the system requirement said, usually two times or even thrice.
The format of hard drive
Normally we format hard drive into two kinds of Windows file systems: one is FAT, and the other is NTFS.
FAT
File Allocation Table or FAT is computer file system architecture. It is the primary file system for various operating systems including DR-DOS, OpenDOS, FreeDOS, MS-DOS, OS/2 (v1.1) and Microsoft Windows. For floppy disks (FAT12 and FAT16 without long filename support) it has been standardized as ECMA-107 and ISO/IEC 9293. The use of long filenames with FAT is patented in part.
NTFS
NTFS is the standard file system of Windows NT. It has several improvements over FAT and HPFS (High Performance File System) such as improved support for metadata and the use of advanced data structures to improve performance, reliability, and disk space utilization, plus additional extensions such as security access control lists (ACL) and file system journaling. The file system specification is a trade secret, although it can be licensed commercially from Microsoft through their Intellectual Property licensing program.
The differences between NTFS and FAT
NTFS is a much more stable format of partition and is the newest. If a NTFS partition becomes corrupt, it can sometimes be recovered with special software. NTFS is a much more efficient and fastest format to use, and can also recognize more space on a Hard Drive.
FAT is a very old sort of format compared with NTFS and can be traced back to Windows 95. It can only recognize a very small hard drive space. If a FAT partition becomes corrupt then it is almost impossible to recover it. A FAT partition is more likely to corrupt if your computer crashes. FAT32 is a better version of this kind of format but is still flawed. If EVER offered a choice between FAT and NTFS format, pick NTFS! It will pay off straight away.
The best format for Windows Server
NTFS is comparatively the best format for Windows Server. It is equipped with so many advanced features that FAT doesn't have such as protecting data from losing.
Windows Server partition software
Though Windows systems have their own Disk Management Tool, yet this tool can only support basic partition management. For computer non-professional users, they don't know how to do the partition management with that tool. And there is something more critical: the data on Windows Server is too important to suffer losing; however, the Disk Management Tool doesn't say it can protect data from losing very well. So users need some Window Server partition software to manage their partition or hard driver without data loss.
The guarantees for Windows Server partition software
In order to be the best one, this Windows Server partition software must support all Windows Server systems that mentioned in "Windows Server Introduction", and has the following guarantees:
1. Friendly user's interface. Once users see the icon of each feature, he will definitely knows what this feature means.
2. Easily use. To simplify the work of network administrators, something like continuous clicks is quite a comfortable management.
3. Manual settings. For some advanced partition management, the administrators need to re-adjust size of the cluster and sector, the letter of partition, hide or unhide partitions & disks, etc.
4. No unexpected data loss. Every administrator knows how important the data on server is. The mission of administrator is to keep the data intact.
5. this Windows Server partition software should be clean, do the partition management fast and use minimum computer resources. And never try partition software for hours, all the changes should be done within minutes. Otherwise it will surely affect the work's efficiency of whole company.
The best partition software for Windows Server
After the comparison, EaseUS Partition Master Server Edition got the award finally. This Windows Server partition software meets all upper requirements mentioned above.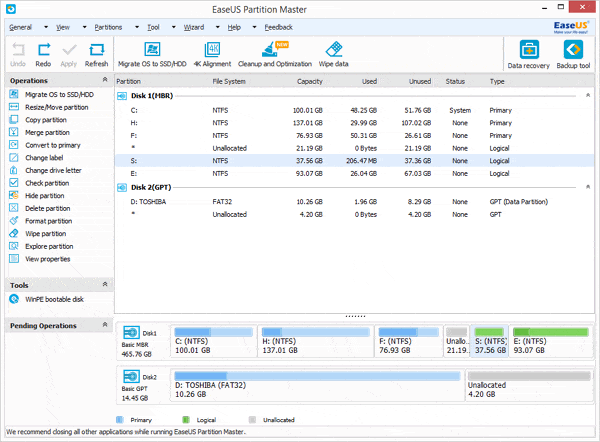 Its key features comprise: create and deleted partitions, resize and move partitions, Copy Partition, Copy Disk, format partitions, hide and unhide partitions, set active partition, etc. Changes of server partition can be previewed before applying to hard disk and all data is completely protected during all operations.
Besides, the site of this Windows Server partition software offers very specific tutorials for visitors to manage their disk without any difficulty. Like:
And if there are several server computers in your company, EaseUS Partition Master Unlimited Edition is highly recommended. It can be installed on all computers within one company.
EaseUS Partition Master Server Edition
ALL-IN-ONE Windows Server disk management toolkit
Time Limited Offer - 20% OFF
$127.20 $159.00

30-day Money Back Guarantee
More EaseUS Partition Master Editions for business users
Unlimited usage within a company
-
-
Free lifetime upgrades
-
-
Provide Technical Services to Clients
-
-
-
-
License
Machine License
Machine License
Unlimited License
Unlimited License
Technician License
Price

$127.20

$159.00

$207.20


$259.00

$319.20

$399.00

$399.20


$499.00

$559.20

$699.00
Feedback on this article:
Thanks for visiting EaseUS, please let us know how we can improve this article or make it more useful to you. Should you need technical support please feel free to contact support@partition-tool.com.