Partition Manager Used in Windows Vista
Partition Manager is a must tool Nowadays
Generally, a partition is a splitting of something into parts and it can be used in a variety of senses. When it refers to computer, it means a split of a hard disk. As we all know, a single active primary partition, the C: drive is where the Operating System reside. How many partitions are there in the hard disk depends on its users. In order to store the Operating System separately from other kinds of data, multiple partitions are created. One advantage of multiple partitions as well as most of its proponents generally point to is that we could delete a single partition (typically the operating system itself) while retaining the other data. Further more, multiple partitions allow computer users to quickly recover from viruses, rootkits, and trojan horses or an otherwise damaged, corrupt or compromised Operating System.
However, the fact is that multiple partitions are much more difficult to manage. A professional partition manager can maximize our work efficiency. The problem is that most of us are not computer guru, so if we can not perform a professional partition management by ourselves, we need the help of partition manager.
How to Resize Partition under Windows Vista?
If you are racking your head on this matter, there is a piece of good news for you. Windows Vista, launched on January 30, 2007, includes a built-in 'Disk Management' program which allows for creating, deleting, formatting and extending of partitions. For more information of how to resize partitions under Windows Vista.
The picture below is a screenshot during the process of resizing partitions under Windows Vista. In the bottom right hand corner, you can see a popped up dialog box which contains main functions of Windows Vista built-in partition manager, Change drive letter, format, extend, shrink, delete partitions. Have you found out that most of advanced operation on the partitions can not be realized? Such as moving, hiding, etc. Meanwhile, there isn't any indication of schedule which seems like a system halt.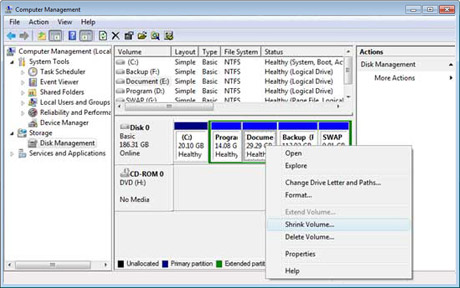 Free Partition Manager for Windows Vista
In the end, we can only do some simple operations on partitions with Windows Vista built-in partition manager but not advanced ones. What should we do if we do not want to buy any kind of partition software? Here, you may turn to EaseUS Partition Master Free Edition, which is a free partition manager for home users.

The popped up dialog box also show its main functions which is more comprehensive.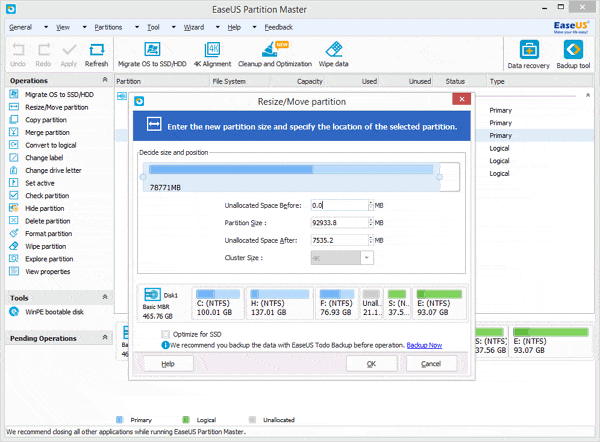 Related Articles: