How Can I Figure out My Computer is 32 or 64 bit Operating System? And How to Resize Partition if It is 64 bit Operating System?
The Application of 32 bit and 64 bit
In the past, 32 bit CPU was the mainstream for computer users. But things changed a little since the appearance of 64-bit CPU in the 1960s. And with the continuous development of 64 bit, in 2003 it replaced 32 bit and became the mainstream for computer home users. However, 32 bit is still being used by those who have bought computers for a long time.
How to Figure out 32 and 64 bit Operating System
The easiest way to figure out whether your computer is 32 bit or 64 bit is to check which version of Vista you are running on.
Here's what you do:
Click on your Start menu.
Right-click on Computer.
Choose properties.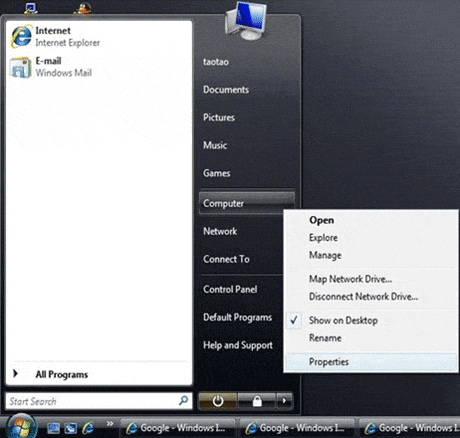 You'll be presented with a screen like this: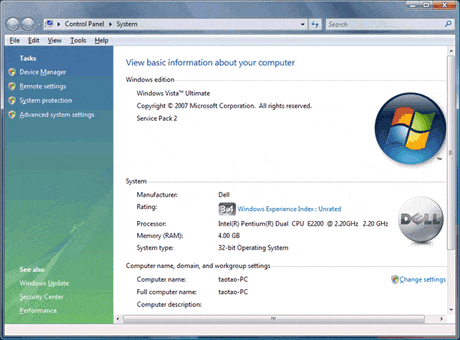 Under the System section you can see a label called "System Type". This tells you whether you're running the 32-bit version of Vista or the 64-bit.
Partition Software for 64 bit
After figuring out you computer, to choose the suitable partition software is important.
Some good partition tools are available to partition your hard drive, such as Partition Magic, EaseUS Partition Master, etc. However, unfortunately, Partition Magic has not been upgraded for a long time and it does not support 64 bit.
So if your computer is Windows 2000/XP/Vista/Windows 7/8 32 bit and 64 bit, EaseUS Partition Master is the best choice for you. As the Partition Magic alternative, EaseUS Partition Master Free Edition is a totally free disk partitioning utility working perfectly with hardware RAID and Windows 2000/XP/Vista/Windows 7/8 (32 bit and 64 bit) Operating Systems. It offers a powerful range of functions such as resizing partitions, formatting partitions, copying partitions, creating new partitions, deleting partitions, hiding partitions, changing drive letters, setting active partitions, and a handful of other functions.
But this free edition is just for home users. If you are business users, EaseUS Partition Master Pro and its advanced editions will be the right software for you to partition 64 bit. Besides the above features of EaseUS Partition Master I listed, this 64 bit partition software can also allow you to create bootable CD. Then you can partition 64 bit more easily and safely.
How to Partition 64 bit by this 64 bit Partition Software?
Here I will give an example of how to resize Windows Server 2003 64-bit partitions. Although Windows 2003 has built-in Disk Management Tool, there are still some differences between the built-in Disk Management Tool and the third party partition tool EaseUS Partition Master Server Edition.
Use Windows Server 2003 64-bit built-in Disk Management tool to resize partition, for example, to enlarge D drive by 50MB.
Step1: Back up all your data on E drive, and then delete E drive.
Step2: click start> program> accessories> command prompt, and in turns type "Diskpart", "List volume", "Select volume 2", "Extend Size=50".
Notes: Back up your data on E drive before deleting it. To extend D drive, you can only delete the partition next to D drive as we delete E drive.
But if you use EaseUS Partition Master to resize partition, you will not need to do "step1, step2, then step3…" exactly and precisely like what you have done through Windows Server 2003 64-bit disk management tool.
On a disk map, current size of the partition is displayed on the top of the dialog box. The map also depicts the used and unused space within the partition and the free space surrounding the partition (if any exists). The minimum and maximum sizes that you can resize a partition on Windows Server 2003 64-bit appear below the map. The most attractive feature is that it can resize your partitions according to the free space without destroying any data.