EaseUS Partition Master Server Edition
ALL-IN-ONE Windows Server disk management toolkit
Time Limited Offer - 20% OFF
$127.20 $159.00

30-day Money Back Guarantee
How to resize RAID partition?
Do you come across the situation that the system partition C: drive runs out of place on the created RAID Array? Under this condition, the best solution is to resize your RAID partition rather than to recreate a RAID. RAID partition manager software, EaseUS Partition Master, to resize your RAID 0, RAID 1, RAID 3, RAID 4, RAID 5 partition especially the system partition without data loss.
Overview of the RAID
RAID - which stands for Redundant Array of Inexpensive Disks, or sometimes alternatively Redundant Array of Independent Disk - is a technology that employs the simultaneous use of two or more hard disk drives to achieve greater levels of performance, reliability, and/or larger data volume sizes. It is used for computer data storage schemes that can divide and replicate data among multiple hard disk drives. Two major design goals of RAID are: increased data reliability and increased input/output performance.
There are various combinations of these approaches giving different trade-offs of protection against data loss, capacity, and speed, including RAID 0, RAID 1, RAID 2, RAID 3, RAID 4, RAID5, RAID 6, and RAID 10 (1+0). Among them, RAID levels 0, 1, and 5 are the most commonly found, and cover most requirements.
User story of resizing RAID partition With EaseUS Partition Master
User experience to resize RAID system partition: I have a four drive RAID 5 configuration under the SCSI utilities, with a C: partition for System and D: partition for data and there is still 19 GB unused space. The allocated partition was more than enough until I installed new programs. Then my system partition on my Server was fighting for precious space and placed in a dilemma of running slowly. So I wanted to resize my system partition on the RAID 5 with the unused space I searched on google and purchased a great third party partition software - EaseUS Partition Master Server Edition. It is such a great product that successfully resized my C: partition of the RAID 5 without losing data. The product worked flawlessly on my Windows Server, it was a snap to install and use.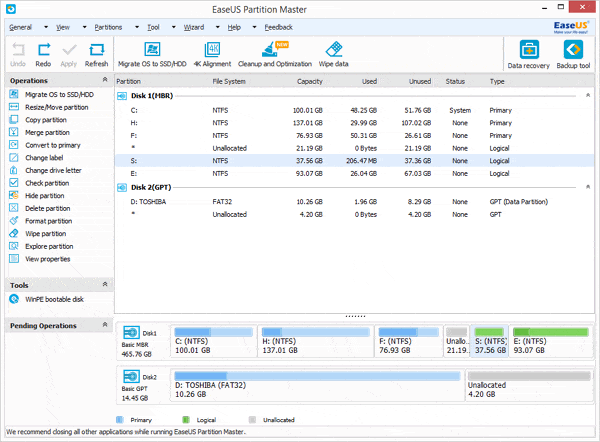 RAID partition resizing software
A hardware implementation of RAID requires at least a special-purpose RAID controller. While you can choose to resize RAID partition with partition software which can ease the process. EaseUS Partition Master Server Edition works well with all the hardware RAID, and supports a fortune of RAID controller, including IDE Raid controllers, SCSI, SAS, S-ATA Raid controllers, serial ATA host controllers and devices.
The user interface of EaseUS Partition Master is easy to understand and pretty straight forward. It is designed to focus on operation accuracy and safety which enables you to resize your RAID Array partitions without losing data by dragging and dropping the mouse in the disk map. All partition changes can be previewed before they are implemented on a hard drive, and all data is completely protected throughout the operation. For example, before deleting data off a disk, the program will clarify whether the user wants to delete the partition or erase every byte of data. To resize the RAID partition for your Windows 2000/XP/Vista/Windows 7/Windows 8 and Widows Server 2000/2003/2008, please follow this step by step instruction: Resize/Move FAT & NTFS hard disk Partition.
Getting this RAID partition manager product to maximize your computer performance, your computer life will be so much easier.
Related Articles: